January/February Magazine of Fantasy & Science Fiction now on Sale
January/February Magazine of Fantasy & Science Fiction now on Sale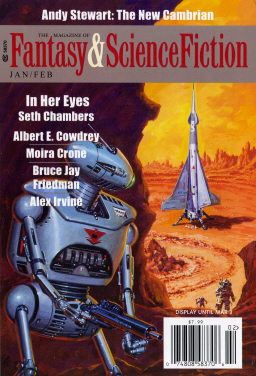 Just how excited I am by the arrival of F&SF every two months is probably unfairly influenced by the cover.
I can't help it — I'm just a sucker for good cover art. Some of my favorite recent covers have been Max Bertolini's marvelous down-in-the-dungeon piece for May/June 2012, Maurizio Manzieri's enigmatic alien egg for July/August 2011, and our own Mark Evan's first cover for F&SF, the 2012 Jan/Feb issue.
Of course, all the best magazine covers feature space ships, intrepid humans exploring foreboding alien landscapes and — especially! — robots. Which is why I was especially taken with the cover for the January/February 2014 issue, by the great Ed Valigursky.
Valigursky, who painted covers for IF, Amazing, Fantastic, and many others (not to mention many of my all-time favorite vintage paperback covers, like Space Viking and The Cosmic Computer), died in 2009, so I'm not sure how editor Gordon van Gelder managed to get his hands on a cover I've never seen before, but he did. Valigursky's piece pays tribute to the classic look of F&SF from the 50s and 60s, and still somehow manages to look modern and fresh. That's no small feat.
Chuck Rothman reviews the issue for Tangent Online, including Oliver Buckram's novelette "The Museum of Error."
Sometimes a wonderful conceit is more than enough to hold a story together. "The Museum of Error" is one of these: a museum that features various scientific mistakes –- the "Rounding Errors Through the Ages" exhibit, robots who insist they're human, the Never-Right Clock, and Pete the Petrified Cat. Herbert Linden is the Assistant Curator for Military History, and is called to find out what happened to Pete, who may have been stolen by their competitors, the Science Institute. Oliver Buckram's story is filled with imagination, and is very cleverly constructed, with a mishmash of what seem to be one-liners [that] all come together in the end.
This issue contains stories from C.C. Finlay (whose novella "The Nursemaid's Suitor" appeared in Black Gate 8), Albert E. Cowdrey, Robert Reed, Alex Irvine, and others.
Here's the complete Table of Contents.
NOVELLA
"In Her Eyes" – Seth Chambers
NOVELETS
"The New Cambrian" – Andy Stewart
"The Man Who Hanged Three Times" – C.C. Finlay
"The Via Panisperna Boys in "Operation Harmony" – Claudio Chillemi and Paul Di Filippo
"Out of the Deep" – Albert E. Cowdrey
"The Museum of Error" – Oliver Buckram
SHORT STORIES
"The Story-Teller" – Bruce Jay Friedman
"The Lion Wedding" – Moira Crone
"For All of Us Down Here" – Alex Irvine
"We Don't Mean To Be" – Robert Reed
Departments this issue include book reviews by Charles de Lint and Elizabeth Hand, film reviews from David J. Skal, Paul Di Filippo's Plumage From Pegasus column (which appears to skewer Paolo Bacigalupi), Coming Attractions, a science column from Paul Doherty and Pat Murphy, and a Curiosities entry by Lawrence Forbes.
The Magazine of Fantasy and Science Fiction is edited by Gordon van Gelder. The cover price is $7.99 for a thick 258 pages. Check out the complete TOC and additional free content at the F&SF website.
We last covered F&SF here with the November/December issue.