Universal Labels 47 Ronin a Flop less than 24 Hours After Release
Universal Labels 47 Ronin a Flop less than 24 Hours After Release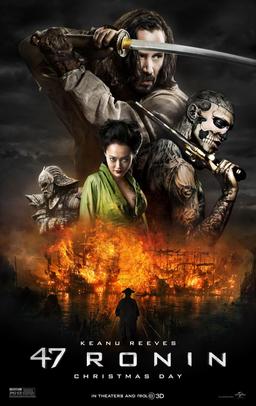 Universal Pictures announced it would take a writedown on its $175 million fantasy epic 47 Ronin on December 26th, the day after the film entered wide release on Christmas Day.
While it's routine for studios to write off projected losses for underperforming films, it's highly unusual for one to announce that such a major project is a bomb so early in the film's run, virtually killing what little hope it had to defy expectations and turn things around.
My teenage sons, oblivious to wider industry news, saw the trailer — packed with gorgeous fantasy landscapes; pirates; dark dungeons; and life-and-death swordfights against samurai, monsters, and flying dragons — and were sold immediately.
For myself, I wasn't expecting a masterpiece, but I was astounded that Universal had dismissed the film so cavalierly, and my curmudgeonly nature immediately made me assume they were idiots. So we caught a matinee showing yesterday, in a nearly empty theater.
And you know what? It wasn't bad. Rinko Kikuchi does a marvelous job as the (literally) scenery-chewing, shape-shifting witch and veteran actor Hiroyuki Sanada (most recently seen in The Wolverine and the TV shows Lost and Revenge) carries the film as the leader of the legendary band of 47 disgraced samurai who avenges the death of their noble lord, against the direct orders of the Shogun.
Even Keanu Reeves delivers an entirely serviceable performance as Kai, the half-breed who leads the weaponless ronin into a demon-infested forest and wins them some cool samurai ordnance. The marketing has portrayed Reeves as the lead, but it's really Sanada who has the most screen time.
The tale of the original 47 ronin, whose 18th century graves still stand today at Sengaku-ji in Japan, is perhaps the most famous example of bushidō, the samurai code of honor, in Japanese history, and is considered by some the country's "national legend."
[Click on any of the images in this post for larger versions.]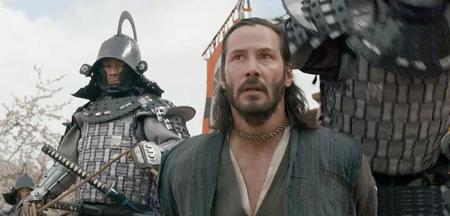 While I found the climatic final battle to be a little too linear and predictable — this is a film that really could have used a few twists in the third act, especially given all that marvelously unexplained magic — I had no complaints at all about the pacing and production values. The sets make fabulous eye candy, especially the pirate den, the shadowy forest lair of the ronin, and the sinister castle of the treacherous Lord Kira.
Looking at its success in the last 12 months, it's obvious financial realities for Universal made a writedown before the end of 2013 a good idea.
It had a record year, with hits that included Fast and Furious 6 and the smash Despicable Me 2, finishing third in domestic box office with $1.4+ billion, just behind Warner Bros. and Disney. A tax write-off to shelter that kind of profit probably saved them a lot of money.
But it saddled 47 Ronin in the public eye with the taint of a bomb, and to my mind unfairly. It takes a very exceptional film to shrug off that kind of poisonous publicity and still deliver solid box office, and 47 Ronin — which I found to be an altogether solid, if rather traditional Hollywood fantasy — is not nearly exceptional enough to pull that off.
And that's unfortunate. Unsurprisingly, negative reviews have started to pile up for the film — since when have critics failed to pull out the knives for a movie that's pre-labeled a major flop? — and doubtless the troubled road the picture took getting to the screen didn't help.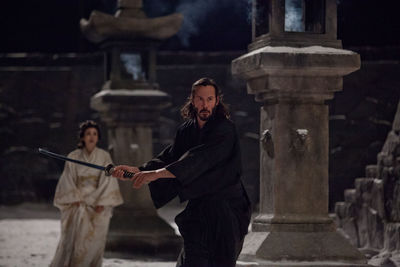 47 Ronin was originally scheduled for a November 2012 release, until the date was shifted to February 2013 to allow additional effects work; ultimately it was postponed to Christmas 2013. That kind of thing is like a matador's flashing red cloak for critics; they see blood immediately.
As of today, Box Office Mojo is reporting that 47 Ronin has made nearly $33 million domestically, and over $50 million in international markets, in the roughly 10 days since its release.
I'm no expert in box office forecasting, so I have no idea if that's enough momentum to give the film at shot at recouping its $175 million price tag. Probably not. From what I understand, a film needs to make roughly 2X its cost just to break even (as box office receipts are split roughly 50/50 with theaters over the life of a picture).
In any event, I'm not here to tell you that the critics are all wrong and that 47 Ronin is a neglected masterwork. I haven't even read any of the reviews. But I sat in the theater next to two teenage boys, listened to their cheers and laughter, and saw the film through their eyes.
So I hope you'll make up your own mind and ignore the events that made it fiscally expedient for Universal to prematurely label this film a bomb and the critics who smelled blood and drew their own swords. I'm happy to tell you that, if you remember what it was like to watch a rousing epic fantasy filled with heroism, treachery, beautiful maidens in distress, diabolical villains, and dazzling swordplay, you have the kind of heart you need to enjoy 47 Ronin.