New Treasures: Old Mars, Edited by George R.R. Martin and Gardner Dozois
New Treasures: Old Mars, Edited by George R.R. Martin and Gardner Dozois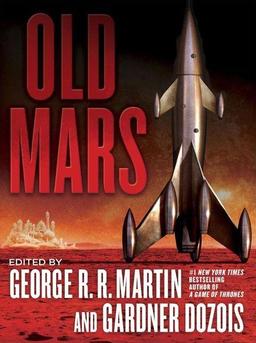 I heard George R.R. Martin and Gardner Dozois were doing a new science fiction anthology about Mars and I thought, "Eh, Mars. It's just no fun anymore. Too bad they don't write stories about Mars the way they used to — like Clark Ashton Smith's brilliant "The Vaults of Yoh-Vombis," or Leigh Brackett and C.L. Moore's fabulous tales of decadent civilizations and inscrutable alien mysteries. No one has that much imagination any more. Bah! I think I'll go yell at the kids to get off the lawn."
Then Old Mars finally arrived and it thawed my mean old heart. Martin and Dozois have rallied some of the finest writers in the industry — like Michael Moorcock, Joe R. Lansdale, Ian Mcdonald, Howard Waldrop, Matthew Hughes, Phyllis Eisenstein, and many others — to write brand new tales of Mars in the classic pulp tradition. Here's the marvelous book description:
Burroughs's A Princess of Mars. Bradbury's The Martian Chronicles. Heinlein's Red Planet. These and so many more inspired generations of readers with a sense that science fiction's greatest wonders did not necessarily lie far in the future or light-years across the galaxy but were to be found right now on a nearby world tantalizingly similar to our own — a red planet that burned like an ember in our night sky… and in our imaginations.

This new anthology of fifteen all-original science fiction stories, edited by George R. R. Martin and Gardner Dozois, celebrates the Golden Age of Science Fiction, an era filled with tales of interplanetary colonization and derring-do. Before the advent of powerful telescopes and space probes, our solar system could be imagined as teeming with strange life-forms and ancient civilizations — by no means always friendly to the dominant species of Earth. And of all the planets orbiting that G-class star we call the Sun, none was so steeped in an aura of romantic decadence, thrilling mystery, and gung-ho adventure as Mars.

Join such seminal contributors as Michael Moorcock, Mike Resnick, Joe R. Lansdale, S. M. Stirling, Mary Rosenblum, Ian McDonald, Liz Williams, James S. A. Corey, and others in this brilliant retro anthology that turns its back on the cold, all-but-airless Mars of the Mariner probes and instead embraces an older, more welcoming, more exotic Mars: a planet of ancient canals cutting through red deserts studded with the ruined cities of dying races.
Martin and Dozois may well have produced my dream anthology. You don't know how thrilled I am to see this kind of open-hearted embrace of the genre's pulp roots from a major publisher.
No doubt it's a business risk, though. Do readers at large know — or care — enough about classic pulp SF to be interested in a book like this?
Perhaps the recent resurgence of interest in Burroughs, with big-budget releases like Disney's John Carter (which Ryan Harvey called a perfect Edgar Rice Burroughs movie), and Bob Garcia's popular anthology Worlds of Edgar Rice Burroughs, will help draw attention to the book. I'm certain it helped get it green-lit by Bantam, anyway.
Bantam is also the publisher of George R.R. Martin's internationally bestselling A Song of Ice and Fire, which probably helped, too.
Nonetheless, this is exactly the kind of book the old guard have been demanding for decades. If only publishers had the brains to produce exciting pulp science fiction again, I hear constantly, people would buy it by the truckload! And pass my cane, I'm gonna smack that kid buying a Star Wars book.
Well, here it is — a big budget release celebrating the classic pulp SF we trumpet here at Black Gate every day. I don't know if it can generate the kind of buzz it needs to become a real success and spawn a new generation of retro-pulp SF… but I know that the buzz starts with us and I know it deserves our support.
I bought my copy last month. And if you've ever wondered what this industry could accomplish if writers dared to write stories the way they used to, I hope you'll do the same.
Old Mars includes fifteen original stories, a 10-page introduction by George R. R. Martin, and is dedicated to six writers who made Mars loom large in our imaginations long before the Mariner and Curiosity probes put treads down on the Red Planet:
For Edgar Rice Burroughs,
Leigh Brackett, Catherine Moore,
Ray Bradbury, and Roger Zelazny,
who inspired this book,
and Robert Silverbeg,
who should have been in it.
Here's the complete Table of Contents:
Introduction: Red Planet Blues, by George R.R. Martin
"Martian Blood" by Allen M. Steele
"The Ugly Duckling" by Matthew Hughes
"The Wreck Of The Mars Adventure" by David D. Levine
"Swords Of Zar-tu-kan" by S.M. Stirling
"Shoals" by Mary Rosenblum
"In The Tombs Of The Martian Kings" by Mike Resnick
"Out Of Scarlight" by Liz Williams
"The Dead Sea-bottom Scrolls" by Howard Waldrop
"A Man Without Honor" by James S.A. Corey
"Written In Dust" by Melinda Snodgrass
"The Lost Canal" by Michael Moorcock
"The Sunstone" by Phyllis Eisenstein
"King Of The Cheap Romance" by Joe R. Lansdale
"Mariner" by Chris Roberson
"The Queen Of Night's Aria" by Ian Mcdonald
Old Mars was published by Bantam Books on October 8, 2013. It is 511 pages, priced at $28 in hardcover and $13.99 for the digital edition. The cover is by Stephen Youll.