Vintage Treasures: Sorcerer's World by Damien Broderick
Vintage Treasures: Sorcerer's World by Damien Broderick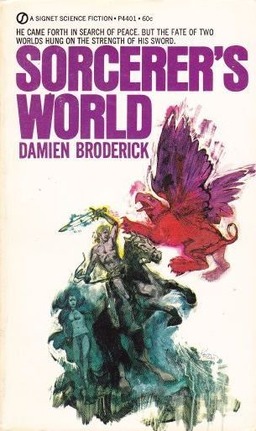 I think of Australian science fiction author Damien Broderick chiefly as a modern writer. He got a Locus Award nomination back in May for his non-fiction book Science Fiction: The 101 Best Novels 1985-2010 (edited with Paul Di Filippo), just as an example, and Rich Horton reported on his brand new three-volume survey of the vintage UK SF magazines Science Fantasy, New Worlds, and Science Fiction Adventures (all written with John Boston) for us in March.
So I admit I was a little surprised to find one of his books tucked away in a collection of vintage 50s and 60s paperbacks I purchased online a few weeks ago. Sure, it was published right at the tail end of those decades (1970) and it was his first novel. But Sorcerer's World made me realize that Broderick has been contributing steadily to the field for well over four decades — and shows no signs of stopping.
Through the Time Barrier

Klim Xaraf, son of a nomadic chief, awoke from his monumental fall to find himself the prisoner of time — trapped a thousand years in the future. Around him was a dying world. Its incredible power sucked by necromancers through a hole to the past… its cities preserved in stasis, awaiting his liberation, or their final doom.

Yet Klim could neither meet this world's challenge, nor conquer the wizards of his own, until the powers primed him for the battle. For with their knowledge, they would erase his memory and plunge him in a nightmare training ground… where all the wonders of tomorrow were the forgotten souvenirs of an ancient yesterday.
Ah, for the days when fantasy novels had characters named "Klim Xaraf." These days, everyone sounds like a D&D character, rather than an extra from Krull. Broderick wrote a few other fantasy novels, including The Dreaming Dragons (1980), The Black Grail (1986), and The White Abacus (1997), but nowadays he's chiefly known for his science fiction, especially Striped Holes (1988), Godplayers (2005), K-Machines (2006), and Transcension (2007).
Sorcerer's World was published in October, 1970 by Signet. It is 144 pages, originally priced at 60 cents. It has never been reprinted, and there is no digital edition. See all of our recent Vintage Treasures here.