Black Gate 8 – Summer 2005
Black Gate 8 – Summer 2005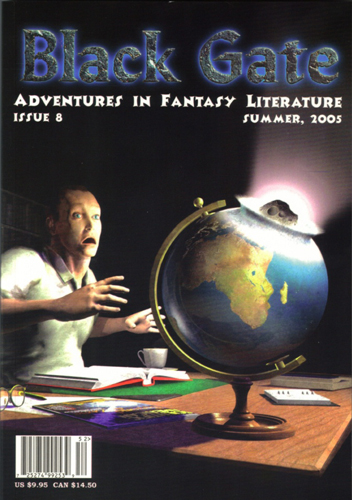 208 pages, $9.95
On Sale July, 2005
Edited by John O'Neill
Published by New Epoch Press
Cover Art by Kenn Brown
Interior Art by Chuck Lukacs, Bernie Mireault, and Denis Rodier
Buy this issue — only $9.95 plus shipping & handling!
---
FICTION
"The Turning of the Tiles"
by Iain Rowan
Dao-shi, the wily exorcist of "Looking for Goats, Finding Monkeys," returns in an epic tale of ghosts, assassins, and treachery in ancient China.
"Turn Up This Crooked Way"
by James Enge
In which Morlock the Maker, legendary wizard and artificer, follows the trail of a thief into the dreaded winterwood.
"Heat Waves"
by Sherry Decker
The shadows whispered to Rachel. And sometimes it was hard not to listen.
"The Carrion Call"
by Paul Finch
Eadric and his sister meant only to bring their father home. But the thing that stalked them through the woods had other plans.
"Winter's Touch"
by Justin Stanchfield
They found the youth face down by the stream. Narda took a chance bringing him home… for the riders followed soon enough.
"Mortal Star"
by Aaron Bradford Starr
Anakira led her desperate people across the plains, pursued by hordes of mindless monsters… and something far worse.
"Fat Jack and the Spider Clown"
by Jay Lake
Fat Jack and the Spider Clown went to see the burning of the king. But they couldn't stay for the party afterwards.
"The Nursemaid's Suitor"
by Charles Coleman Finlay
Lord Gruethrist set his castle aflame just to cover his son's escape, and Yvon intended to see him to safety. Whatever the cost.
---
FEATURES
Double Time: The History of Ace Doubles
by Rich Horton
A Conversation with Charlaine Harris
interview conducted by Sue Granquist
---
DEPARTMENTS
Editorial: A Line Painted Around the World
by John O'Neill
Letters
From Our Readers
Back Issues
A List of rare (but miraculously still available) back issues of Black Gate.
Next Issue
It's hard to wait. But force yourself.
---
REVIEW FEATURES
Book Reviews
Lords of Swords, edited by Daniel E. Blackston
The Savage Tales of Solomon Kane, by Robert E. Howard
Dead as a Doornail, by Charlaine Harris
Dead Beat: A Novel of the Dresden Files, by Jim Butcher
Diary, by Chuck Palahniuk, narrated by Martha Plimpton (audiobook)
Bad Men, by John Connolly
Strange Cargo, by Jeffrey E. Barlough
The Shadow of the Wind, by Carlos Ruiz Zafon
The Family Trade, by Charles Stross
The Bad Place, by Dean Koontz
The Ancient Legacy, by Mitchell Graham
by Thomas F. Cunningham, Lisa DuMond, Sue Granquist, Jackson Kuhl, and Todd McAulty.
---
GAMING
Fantasy Game Reviews
Tekumel: Empire of the Petal Throne, Guardians of Order
Valnir's Bane: A Black Hearts novel, Nathan Long, Black Library
The City of Towers: The Dreaming Dark, Book I, Keith Baker, Wizards of the Coast
Dungeons & Dragons: Races of Destiny, Wizards of the Coast
Blue Rose, Green Ronin Publishing
All Wound Up, Twilight Creations
by Don Bassingthwaite, Howard Andrew Jones, Todd McAulty, and Michael Thibault
---
COMICS
Knights of the Dinner Table: The Java Joint
by Jolly Blackburn, John O'Neill, and Steve Johansson