Sumerian Zombies, Chicago Vampires, and Stephen King: David C. Smith's The Man Who Would Be King and Other Stories
Sumerian Zombies, Chicago Vampires, and Stephen King: David C. Smith's The Man Who Would Be King and Other Stories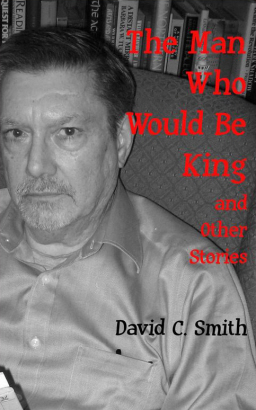 David C. Smith has been a friend to Black Gate almost as long as we've been around. I remember attending a World Fantasy Convention with Howard Andrew Jones many, many moons ago when we were both four years old (or thereabouts), when Howard dragged me excitedly to an autograph session to meet him. Dave was astoundingly gracious to two young sword & sorcery fans, entertaining us with tales of writing Red Sonja novels with Richard L. Tierney and the wild S&S publishing scene in the 1970s.
In person and on the page, Dave is a natural storyteller. We both live in Chicago and I'm honored that we've become friends over the past few years. We've published his fiction and non-fiction here at Black Gate — including an excerpt from his new noir thriller Dark Muse, and one of the most popular works of fiction we've ever posted: an excerpt from his supernatural pirate dark fantasy novel Waters of Darkness, written in collaboration with Joe Bonadonna
Dave and Joe co-wrote one of our most popular blog posts in 2012, "The Big Barbarian Theory," and Dave followed it up with a classic article that still brings traffic to our site today, "New Pulp Fiction for Our New Hard Times." Howard interviewed Dave for us in 2007, and Jill Elaine Hughes conducted a interview/career retrospective a few months later.
Dave's latest book is a new collection of four new short stories, a novella, and more — including "The Man Who Would Be King," the tale of a writer who resents Stephen King's success, until an odd encounter with the most popular horror writer in America changes his life. The Man Who Would Be King and Other Stories also includes a story set in the universe of his popular novel Oron, a zombie tale, a sample chapter from The West Is Dying, author notes, and much more.
Here's the complete book description.
A collection of four new short stories, a novella, and additional fiction by David C. Smith, author of dozens of sword-and-sorcery, horror, and fantasy novels for more than forty years. The title story is a dark comedy about a young novelist who is jealous of Stephen King's commercial success and whose bitter complaints are overheard by King himself, who visits the writer in the odd domain where all stories and dreams — and horrors — come from.

"The Shadow of Dia-Sust" is Smith's first new Oron story in 30 years; in it, the young barbarian helps a dying witch exact an overdue revenge and puts himself on the path of a destiny that will lead him into the events featured in Oron, the previously published first novel in the series.

"Ug-hul-ene" is a horror story about zombies set in ancient Sumeria, and "Nerve Endings" tells about an uncommonly horrible means of destruction utilized by a modern-day terrorist. "We Went to See the Vampire on Halloween Night" reveals what happened to three people who visited an actual vampire on the outskirts of Chicago thirty years ago — a visit that anticipated the world we find ourselves living in today. Also included are a sample chapter from The West Is Dying, the first volume of Smith's fantasy trilogy The Fall of the First World, back in print for the first time in thirty years, and a chapter from the author's work in progress, Sometime Lofty Towers, a literary sword-and-sorcery novel. There are also author notes that provide background information about each of the stories.
Dave's most recent releases include The Fall of the First World volumes from Borgo Press, beginning with The West is Dying and Sorrowing Vengeance.
The Man Who Would Be King and Other Stories was published on May 17, 2014. It is 173 pages, priced at $3.99 in Kindle format. You can order it directly from Amazon.com — check it out today!