The Ordinary is Ephemeral: Robert E. Howard, Clark Ashton Smith, H.P. Lovecraft, and the Battle Against Modernism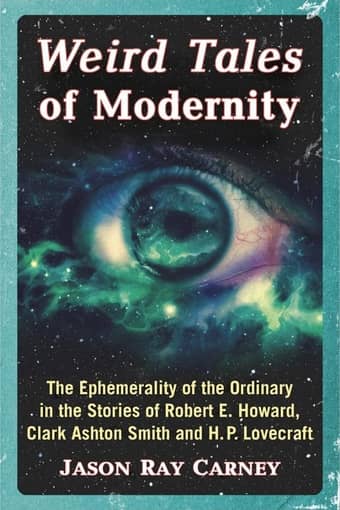 Weird Tales of Modernity: The Ephemerality of the Ordinary in the Stories of Robert E. Howard, Clark Ashton Smith, and H.P. Lovecraft
Jason Ray Carney
McFarland & Company (205 pages, $39.95 in paperback/$23.99 digital, July 26, 2019)
Jason Carney's thesis in Weird Tales of Modernity is that, in their reaction to modernism, the artistic and literary movement that upended culture as it had been accepted in the Victorian and Edwardian eras, the Weird Tales Three — Howard, Smith, and Lovecraft — turned modernism on its head with innovations they introduced in their fiction. Make no mistake: the word thesis here is apt. Weird Tales of Modernity is a formal dissertation. Making use as it does of academic jargon, the book will not be for every reader.
Straightaway, for example, Carney introduces us to the term ekphrastic to make clear what the Weird Tales Three were expressing. Ekphrasis is the representation in language of a work of art. Any of us can do this; go ahead and write your own personal, detailed description of Cthulhu or explore how you react to Frank Frazetta's artwork. Ekphrasis "acts as an organizing principle in poetry and fiction, making explicit the connection between art, storytelling, and life." This definition is from Patrick Smith's guest blog on the website Interesting Literature. Smith quotes Michael Trussler in defining ekphrasis as "a kind of ontological mixture that signals a world beyond the confines of the text."
There we have it: ekphrasis "signals a world beyond the confines of the text." We are now in Lovecraft's frightening, paranoid, awakened world of the Cthulhu mythology — alive beyond the confines of the text — and Clark Ashton Smith's Averoigne and Poseidonis, and Robert E. Howard's brutal Valusia and Hyborian Age. As Carney says early in Weird Tales of Modernity, "When a literary artist, like [Clark Ashton] Smith, artistically describes or fictionalizes a work of art by transforming it into an unreal echo or shadow of the actual, that is ekphrasis."
Carney devotes an early chapter to the history of Weird Tales and then two chapters each to the three authors of his study, introducing them and then exploring their artistic innovations. He begins his study with an examination of what he terms pulp ekphrasis. "In several of their enduring works," he says,
Lovecraft, Howard, and Smith engage in a form of artistically inflected criticism termed ekphrasis. They do so by fictionalizing modernism, transforming the real artistic movement into an unreal shadow modernism, a strategic distortion of actual modernism. After many creative iterations honed over several stories — e.g., Pickman's demented art, Malygris's sorcery, the fell mirrors of Tuzun Thune — this shadow modernism becomes an inhuman technology that, functioning like a cognitive prosthesis in the virtual world of fiction, thereby reveals the secret truth of history: history is a cruelly accelerating process of deformation. The ordinary is ephemeral. History is an interplay of form and formlessness with formlessness terminally ascendant.
The ordinary is ephemeral. Lovecraft, Smith, and Howard were keenly aware of this truth and reacted to it in their fiction while other Weird Tales writers were moving right along in the modern world, writing their stories of scientifiction, offering narratives of ominous cults and mad scientists (with at least one nude woman per story),  or revisiting the tropes of Victorian horrors.