Black Gate Online Fiction: Waters of Darkness by David C. Smith and Joe Bonadonna
Black Gate Online Fiction: Waters of Darkness by David C. Smith and Joe Bonadonna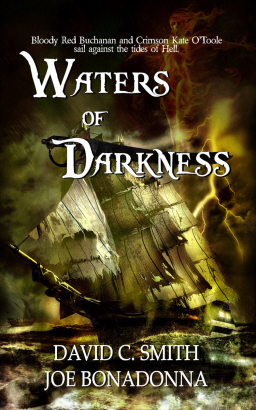 Black Gate is very pleased to offer our readers an exclusive excerpt from Waters of Darkness, the supernatural pirate dark fantasy novel by David C. Smith and Joe Bonadonna.
The Witch's shot smashed its prow with a sudden chaos of flame and smoke, blood and cinders. Lengths of oar blew into the air and fell slowly like matchwood to the sea. Sailors and pieces of sailors littered the waves with a red stain. Kate's ruffians howled, and the crews of the Raven and the Falcon roared with approval.

The Arab ship quickly sank under, the men in her waist and stern jumping overboard. The uglies aboard Kate's vessel rushed to the gunwales with musket and pistol and fired upon the men in the water.

The Lark then let loose with a thunderous broadside.

The Witch's side guns answered, as did the Raven's. The Falcon's cannon blasted a second galleass under the waves, her shot striking below the water line and sending the Arabs aboard her to desperate measures, attempting to caulk and repair the wound and return the Falcon's fire.

Gallant's crew sent their foes down to a deep grave with a blistering salvo of cannon shot once again aimed at the water line.

Zeus van Rijn's curses could be heard rising above the din of battle as the Lark swept the waves and bore down upon Buchanan's ship.
David C. Smith is the author of twenty-two novels, primarily in the sword-and-sorcery, horror, and suspense genres, including The Witch of the Indies (1977), Oron (1978), The Sorcerer's Shadow (1978), and The West is Dying (1983).
Joe Bonadonna is the author of the sword and sorcery collection Mad Shadows: The Weird Tales of Dorgo the Dowser, the space opera Three Against The Stars, and several short stories, including "The Moonstones of Sor Lunarum," one of the most popular entries in our Black Gate Online Fiction line.
Waters of Darkness was published by Damnation Books on March 1, 2013. It is 182 pages and currently available in trade paperback for $19.25, and Kindle format for $5.95. The cover is by Dawne Dominique; learn more here.
Read a complete sample chapter of Waters of Darkness here.