Three Against the Stars Blasts Off for Intergalactic Adventure
Three Against the Stars Blasts Off for Intergalactic Adventure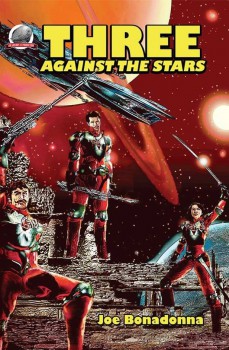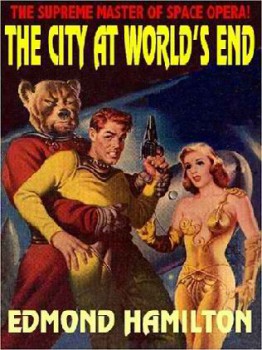 Three Against the Stars is the second book I've read by Joe Bonadonna. Unlike his sword & sorcery work, this marks a venture into pure space fantasy. My knowledge of the genre is admittedly spotty. I was unfamiliar with the works of Edmond Hamilton and E. E. "Doc" Smith, who are both cited as influences, but part of the joy of genre fiction is that one does not need to have an encyclopedic knowledge of all that has gone before since the influences are so pervasive, much of it strikes one as easily recognizable.
This tale of space marines calls to mind the works of Robert Heinlein, while the space war itself strongly reminded me of Malcolm Hulke's early seventies Doctor Who serial, "Frontier in Space" with the Earth Empire brought to the brink of war with the lizard-like Draconian Empire thanks to acts of terror committed by the apelike Ogrons. What sets Bonadonna's work apart from so many others who share similar influences is that he is able to authentically capture the fun and innocence without sacrificing intelligent commentary on war and imperialism.
This is an Airship 27 publication and art director Rob Davis does his usual stellar job of ensuring that their titles stand out as the most eye-catching on the market today. Laura Givens's cover art perfectly captures the space fantasy artwork from publishers like Ace, Lancer, Del Rey, and Ballantine from decades past. Interior black & white illustrations by Pedro Cruz have a classy retro-style that one associates more with slicks than pulps. The decision to go with a more sophisticated style of illustration is well-suited to Bonadonna's story, which has familiar elements, but offers a more philosophical dimension than one generally finds in pulp fiction.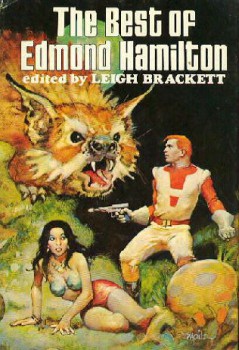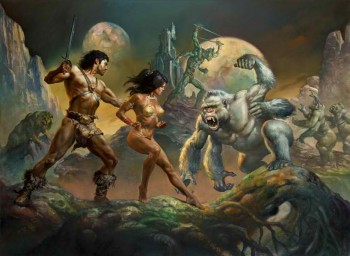 Bonadonna's characters are an interesting update of The Three Musketeers. As with Dumas's classic, there are actually four musketeers. Just as the Gascon bumpkin D'artagnan joined Athos, Aramis, and Porthos so Bonadonna has the Felisian (as in cat person) Makki Doon join up with the trio of space marines from Company E, whose friendship and shared exploits have set them apart from their brothers-in-arms. The diversity among Bonadonna's characters will resonate with modern readers more than if he had stuck with traditional Caucasian male protagonists. Cortez, O'Hara, and Akira are the close-knit trio that Makki encounters and soon wins over.
There are numerous nods for the knowledgeable reader and film buff by way of character names or chapter titles that show influences from both the space fantasy genre to Kurosawa films. One distinguishing feature I've enjoyed in Bonadonna's previous work that is also present here is the fact that his characters are scarred by turmoil. Most genre fiction relies upon more simple, frequently one-dimensional characters. There is nothing wrong with that, for some of the most influential stories follow this model. However, Bonadonna's characters are more complex and lifelike and reflect the fact that men and women are an accumulation of what they survive. This helps greatly in making futuristic settings with fantastic worlds and races accessible to the reader.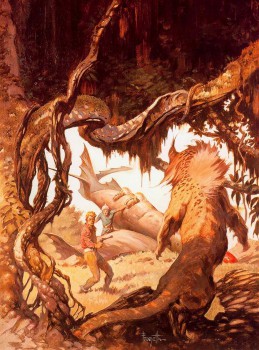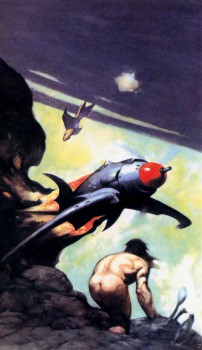 The novel's plotline deals largely with the impending threat of both genocide and civil war and the impact of colonialism on an indigenous population. While Bonadonna is certainly not the first author to use science fiction to tackle these issues, he does so with a realism and maturity that is exceptional. While all sorts of influences are present in his story and the worlds within, a surprising number seem drawn from outside the genre. This cross-pollination of ideas serves the book well and makes Bonadonna an author that is wothy of closer scrutiny.
Best of all, Bonadonna has constructed an empire and galaxy that largely escapes the looming shadow of Star Wars and Star Trek to exist as an original work in its own right. The decision to resist the modern cultural touchstones of science fiction was a wise one. While the conflict of this story is complete in this novel, the worlds and characters Bonadonna has shaped easily lend themselves to further tales. Here's hoping the sales warrant further adventures. Three Against the Stars is a rip-roaring adventure ride that started my New Year off with a fun cocktail comprised of equal parts escapism and social-political commentary. If you love science fantasy or wish to broaden your diet in pulp fiction, Three Against the Stars comes highly recommended.
---
William Patrick Maynard was authorized to continue Sax Rohmer's Fu Manchu thrillers beginning with The Terror of Fu Manchu (2009; Black Coat Press). It was followed by a sequel, The Destiny of Fu Manchu (2012; Black Coat Press). Next up is a collection of short stories featuring an original Edwardian detective, The Occult Case Book of Shankar Hardwicke and a hardboiled detective novel, Lawhead. To see additional articles by William, visit his blog at SetiSays.blogspot.com