Blogging Marvel's Master of Kung Fu Part Twelve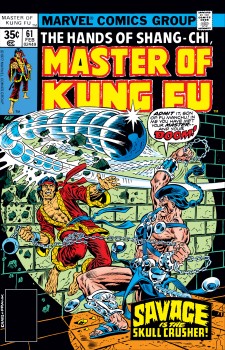 Master of Kung Fu in 1978 was in the process of finding its footing again. Paul Gulacy's departure from the title left an enormous hole for the series' two new alternating artists, Jim Craig and Mike Zeck to come up to speed and offer readers a comparable level of accomplishment. Just a few years earlier, martial arts mania had swept much of the Western world on the strength and charisma of Bruce Lee. Marvel had quickly responded with the creation of Shang-Chi and Iron Fist (among other characters). Master of Kung Fu soon spawned a companion magazine, Deadly Hands of Kung Fu. By 1978, only Master of Kung Fu was left to showcase a non-superpowered martial artist hero. Morally complex scripts and artwork that took its cue from Jim Steranko's groundbreaking work for Marvel in the 1960s were the essential ingredients to keep this niche title from fading in sales with the waning martial arts fad.
Issue #61 kicked off the epic-length "China Seas" story arc that saw writer Doug Moench drawing inspiration from Milton Caniff's long-running newspaper strip, Terry and the Pirates. Moench and Jim Craig launch the story with Shang-Chi having moved in with Black Jack Tarr at the Savoy. Sir Denis Nayland Smith is visiting Melissa Greville in hospital where she is  finally recovering from injuries sustained back in issue #51. Leiko Wu is struggling with loneliness and regret as she sits in her apartment listening to "Dreams" from Fleetwood Mac's Rumours LP. Black Jack Tarr buys a print of Frazetta's "The Silver Warrior" from an art gallery before meeting up with Sir Denis as Clive Reston arrives to visit Melissa in hospital.
Jim Craig's artwork was improving dramatically with a truly lovely rendering of Melissa preparing for her discharge. Moench's script and Craig's artwork renders the start of Clive and Melissa's relationship surprisingly sweet. Shang-Chi, lost in his thoughts of Leiko and with Fleetwood Mac's "Dreams" running through his head is set upon by a Chinese assassin called Skull-Crusher. Their fight is brutally realistic and intercutting it with the supporting characters' normal interactions is surprisingly effective. Leiko attempts to rekindle her relationship with Clive only to discover he is now dating Melissa. Shang-Chi is in the dark about who has hired Skull-Crusher to kill him until Clive and Melissa deliver a letter mailed to Shang-Chi care of MI5 from Juliette which will send him back to Hong Kong to aid the other woman who broke his heart and take him back into conflict with Shen Kuei, the Cat in an unexpected call back to issues #38 and 39.