New Treasures: The Fall of the First World, Book Two: Sorrowing Vengeance by David C. Smith
New Treasures: The Fall of the First World, Book Two: Sorrowing Vengeance by David C. Smith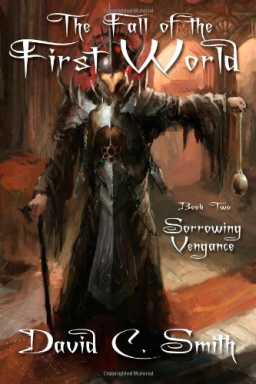 I've seen a lot of exciting news from David C. Smith recently.
If you've been following the Black Gate Online Fiction series (see the latest here), you know that his recent collaboration with Joe Bonadonna, Waters of Darkness, has been near the top of our monthly traffic charts since we published an excerpt back in March. And just a few months ago, our website editor, Michael Penkas, reviewed his much-loved Red Sonja novels, co-written with Richard L. Tierney in the early 80s.
That wasn't even the big news, however. No, that was the re-release of Dave's seminal fantasy trilogy The Fall of the First World, originally published in paperback by Pinnacle Books in 1983. Unavailable for nearly thirty years, these exciting novels are finally being returned to print by Borgo Press. The first, The West is Dying, appeared in November, and now we're very pleased to see that volume two, Sorrowing Vengeance, arrived last month.
"I see more in darkness than you can see in the light." A priest turned sorcerer is reborn as the ultimate creature of Evil. He will topple a throne and begin the destruction of the world, even as the crowns of two empires move inexorably toward launching an impossible war that neither can win. The King of Athadia, fearing a personal curse, tries to maintain peace. But when his Queen is abducted by the barbarian ruler of the East — and she welcomes the affront — armies gather on every border, and ships set sail on oceans of blood. The world is at war, and a great sorrowing vengeance, foretold long ago, comes to life in the darkest of times… The second great fantasy novel in the epic saga of The Fall of the First World!
Sorrowing Vengeance was published by Borgo Press on June 19. It is 452 pages, priced at $18.99 in trade paperback. There is no digital edition. The third and final volume, The Passing of the Gods, is also due this month.