The Public Life of Sherlock Holmes: The Adventure of the Parson's Son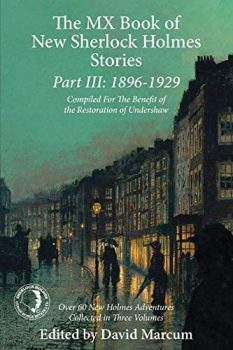 I have been fortunate enough to contribute original stories to five volumes of the MX Book of New Sherlock Holmes Stories series. The brainchild of my Solar Pons buddy, David Marcum, there have been THIRTY-SIX volumes so far, and that will be over forty by the end of the year. The stories are all authentic Holmes pastiches, emulating Doyle's writings. No modern-age fan fiction nonsense (like, say, the road BBC Sherlock went down).
The contributors donate their royalties, which goes to Undershaw, a school for special needs kids, which is in one of Arthur Conan Doyle's former homes. Over $100,000 has been raised so far. It's just a terrific project in multiple ways.
Some of my favorite writers have participated, including Denis O. Smith, Hugh Ashton, John Hall, Will Thomas, and more. I've also discovered some new Holmes writers I didn't know about, like Mark Mower, Mike Hogan, and Tim Symonds.
Plotting is my Achilles heel, but I'm working on getting back in the series with some new stories. Arthur Conan Doyle looked into several true crimes – often to try and thwart a miscarriage of justice. The case of George Edalji is probably the best-known. Not too long ago, a fictionalized account, Arthur and George, was made into a TV miniseries.
For MX, I took that case and had Sherlock Holmes investigate it as it occurred. "The Adventure of the Parson's Son" appeared in third volume of this series, and was part of the initial three-part release. If you'd like to read a Doyle-styled Holmes story by yours truly, keep on going.