The Public Life of Sherlock Holmes: Meet Solar Pons
The Public Life of Sherlock Holmes: Meet Solar Pons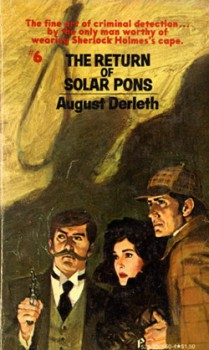 There have been a few posts here recently about fan fiction. That concept has been taken to its furthest extreme with the character of Sherlock Holmes. Amateur and professional writers have been penning tales about Holmes for about a century.
Parodies are stories that poke fun at Holmes. Many, such as this one I wrote (page 10), utilize Holmes himself and are clearly tongue in cheek. Others use "new" characters, such as Robert Fish's Schlock Holmes and his Bagel Street Saga.
But the more serious Holmes tales, those that attempt to portray Sir Arthur Conan Doyle's detective to varying levels, are called pastiches. Just about the earliest 'serious' attempt at a Holmes copy was by Vincent Starrett, who wrote "The Adventure of the Unique Hamlet" in 1920.
The Doyle sons (whom I wrote about here) didn't like pastiches and they're relatively uncommon during the first half of the twentieth century as they protected their copyright. The Doyle Estate has been fighting over the copyright right up to this month!
Richard Lancelyn Green's The Further Adventures of Sherlock Holmes collects many of the early pastiches, including several from the nineteen forties. There are thousands of pastiches out there now. Search "Sherlock Holmes" or "Sherlock Holmes anthologies" at Amazon and you'll get a list too big to go through. A future post will talk about some of my favorite pastiches, such as Frank Thomas's Sherlock Holmes & the Sacred Sword and Michael Hardwick's Prisoner of the Devil.
But this post is about the detective that Starrett called "The best substitute for Sherlock Holmes known": Solar Pons. In 1928, August Derleth, a college freshman at the University Wisconsin, wrote to Sir Arthur Conan Doyle, asking if there were to be any more Holmes tales. Receiving an emphatic reply of "no" scrawled on his own letter, Derleth made a note on his calendar: "In re: Sherlock Holmes."

That day, lost to time, arrived, and in one afternoon, Derleth sat down and wrote "The Adventure of the Black Narcissus," featuring Solar Pons and Dr. Parker, residing at 7B Praed Street in the care of Mrs. Johnson and occasionally visited by Inspector Jamison. Sound kinda familiar?
Derleth, best known for founding Arkham Press and keeping the works of H.P. Lovecraft from fading into obscurity, would continue writing about Pons until his death in 1971. I've posted about how the Doyle sons tried to prevent the publication of the first collection, In Re: Sherlock Holmes, The Adventures of Solar Pons.
Pons lives in Edwardian, rather than Victorian, England. But he still wears an Inverness cape and a deerstalker. And though cars have replaced hansom cabs and he uses the telephone regularly, the stories still evoke that sense of Holmes's London, where it is 'always 1895.'
Pons is more than a carbon copy of Holmes. Unlike Holmes, he's open to the supernatural as an explanation for events. He's not nearly as arrogant or rude to Parker (his Watson) and he has a bit more of a sense of humor. I find him more likeable than Holmes.
Pons refers to Holmes as "his illustrious predecessor" and the great detective is obliquely referred to, though never actually in any of the stories. Pons's Moriarty is a German spy named Von Bork, who appears in a few stories. And there's an Oriental doctor who is certainly Fu Manchu under another name. Our own William Patrick Maynard commented on the not-so-good doctor in a previous post.
Derleth wrote six collections of Pons short stories: The Adventures, The Memoirs, The Return, The Casebook, The Reminiscences, and The Chronicles (this last was published two years after his death) and one novel, Mr. Fairlie's Final Journey.
A treasure trove of "lost" Pons papers have been found over the years and The Final Adventures of Solar Pons contained four more short stories and another novella (and two more stories I'll mention in a moment).
It's Elementary – Derleth had Pons solve several of Watson's famous 'unchronicled cases,' among them the singular affair of the aluminum crutch, Ricoletti of the club foot, the disappearance of Mr. James Phillimore and Isadora Persano, and the strange worm unknown to science.
Derleth liked Solar Pons, which is a distinct difference from Doyle's well-known attitude towards Holmes. ("[H]e holds me back from better things.") Derleth was a good writer and he wanted to write solid Pons tales: it wasn't just a money-making exercise for him. I think that comes through in the stories.
Derleth also wrote four Pons stories with science fiction author Mack Reynolds (another future post). Two of these "off trail" sci-fi stories appeared in The Magazine of Fantasy & Science Fiction. Two others remained on the shelf and were included in the aforementioned Final Adventures. They involve time travelers, aliens, vampires, and a crystal ball. Definitely not the standard fare.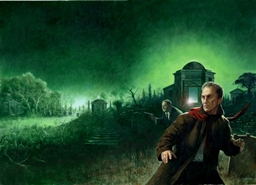 After Derleth died, British horror author Basil Copper was given approval by the Derleth Estate to write more Pons stories. These tales, roughly twice as long as Derleth's, are a bit more serious but still quite good.
Sadly, he and the Estate ended up on quite poor terms and Copper ended up publishing a Pons novella (Solar Pons & the Devil's Claw) on his own. Copper passed away in 2013, not having taken up his Ponsian pen in nearly two decades.
Unfortunately, Derleth's tales have not appeared in print since a series of paperbacks from Pinnacle books in the early seventies. And the Estate hasn't done anything in the digital format with Pons. So, it takes a bit of hunting to find the books: I've bought most of mine used, on eBay. There is going to be an omnibus of all of Copper's Pons stories published in Britain in 2015, so those will be available again.
If you want to learn more about Pons, I run SolarPons.com, the only website on the planet dedicated to the Sherlock Holmes of Praed Street. You will find non-spoiler commentaries on the Derleth stories, as well as spoilered summaries.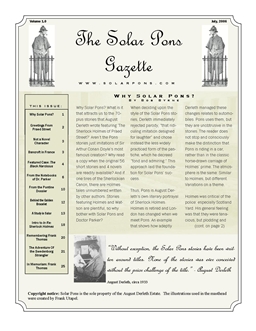 The Praed Street Irregulars are a Pons version of The Baker Street Irregulars and used to publish a newsletter, The Pontine Dossier, though the last issue was nearly forty years ago. At the website, you will find The Solar Pons Gazette, my own free, online newsletter. A new one will be up by the end of this month, with contributions from several other Pons fans.
Why Solar Pons was the first essay in the first issue of the Gazette and gives some reasons for checking him out.
I try to put out one Gazette and one Baker Street Essays (my other free, online newsletter, also hosted at SolarPons.com) a year. The 2015 Gazette is going to contain six brand new Pons pastiches: the first new collection in twenty years. The Gazette has already contained a few new Pons pastiches by Andrew Norris.
Pons used to be quite popular, and such prominent names as Fritz Lieber, Poul Anderson, Philip Jose Farmer, Robert Bloch, Vincent Starrett, Anthony Boucher, and Ellery Queen were among his followers. With the books out of print, he's not as well-known among the modern Holmes crowd.
But the seventy-plus stories by Derleth and the twenty-seven by Copper are absolutely worthy reading for fans of Sherlock Holmes. If you like Holmes, I highly recommend snagging any one of the Derleth collections and giving Pons a try.
I've already written thousands of words about Pons at the website: go check it out and scratch that Sherlockian itch. And if you're on Facebook, there's an active Pons page I run, with over 100 Pons followers.
It's Elementary – I switched the Pons-specific words to Holmes-specific instead for this blog post. You can see how similar Derleth's writing style was to Doyle's.
---
You can read Bob Byrne's 'The Public Life of Sherlock Holmes' column here at Black Gate every Monday morning.
He founded www.SolarPons.com, the only website dedicated to the 'Sherlock Holmes of Praed Street' and blogs about Holmes and other mystery matters at Almost Holmes.