Historical Cthulhu: That Is Not Dead, edited by Darrell Schweitzer
Historical Cthulhu: That Is Not Dead, edited by Darrell Schweitzer
According to H.P. Lovecraft's legendary canon of cosmic horror tales, the Great Old Ones such as Cthulhu, Nyarlathotep, Yog Sothoth, and all-mighty Azathoth have lurked in the dim places of the cosmos since the beginning of time.
"That is not dead," wrote the mad poet Abdul Alhazred, "which can eternal lie, and with strange aeons even death may die." One of Lovecraft's most famous lines is the inspiration for a new hardcover volume of historical Cthulhu Mythos fiction from PS Publishing.
That is Not Dead features all-new tales of cosmic horror set in various periods of history. Here's what editor/contributor Darrell Schweitzer had to say about the book:
That is Not Dead is a collection of Mythos stories, based on the premise that if the Old Ones have been around since elder aeons, someone should have noticed before Lovecraft's characters did about 1900. The theme then is lurking presences. Inasmuch as the stories deal with history, it is secret history, i.e. "what really happened…"
Here's the complete Table of Contents (by historical era).
Introduction: Horror of the Carnivàle by Darrell Schweitzer
Egypt, 1200 BC: Herald of Chaos by Keith Taylor
Mesopotamia, second millennium BC: What a Girl Needs by Esther Friesner
Judaea, second century AD: The Horn of the World's Ending by John Langan
Central Asia, second century AD: Monsters in the Mountains at the Edge of the World by Jay Lake
Palestine, Asia Minor, and Central Asia; late eleventh and mid twelfth centuries AD: Come, Follow Me by Darrell Schweitzer
England, 1605: Ophiuchus by Don Webb
Russia, late seventeenth century: Of Queens and Pawns by Lois H. Gresh
Mexico, 1753: Smoking Mirror by Will Murray
France, 1762: Incident at Ferney by S. T. Joshi
Arizona Territory, 1781: Anno Domini Azathoth by John R. Fultz
Massachusetts, USA, early twentieth century. Italy, early nineteenth century: Slowness by Don Webb
Massachusetts, USA, and Spain, late nineteenth century: The Salamanca Encounter by Richard A. Lupoff
Seattle, Washington, USA, 1889: Old Time Entombed by W. H. Pugmire
England, twenty-first century and the Middle Ages: Nine Drowned Churches by Harry Turtledove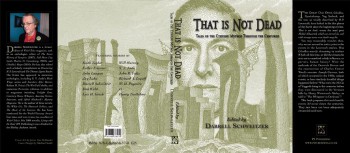 Darrell Schweitzer revealed that the 14 stories appear in chronological order, beginning in the 2nd millennium BC and going up to the end of the 19th century, and the Turtledove piece "takes place in the present but looks back on events in medieval times."
I wrote a story called "Anno Domini Azathoth" for the book, and I'm humbled to be in the company of so many fine writers. My tale is set in the wild Arizona Territory in the late 1700s. It involves an obscure Amerindian cult of Azathoth worshipers, and the missionary priest who discovers their horrible secret. It also purports to tell the "real story" behind the all-too-real massacre of two Spanish missions in 1781. Like most of these tales, it peels back the layers of known history to reveal the mind-blasting horrors that lie beneath.
That is Not Dead is set for release in February 2015. Pre-orders taken here.