Crush It Like Cthulhu
Crush It Like Cthulhu

Southern New England staple Narragansett Beer is trying to corner the Weird Tales beer-drinker market by releasing four beers inspired by H.P. Lovecraft. The first, available this Monday, is based on Lovecraft's, "The Festival":
[O]nce Narragansett came up with the idea to release a line of H.P. Lovecraft beers, it made sense. "The Festival" is generally acknowledged as the first story in the Cthulhu Mythos. It was published in January of 1925, almost 90 years ago exactly. And the Cthulhu Mythos has a name for the stuff that Kingsport's residents drink to allow them to survive the ride across interstellar space on the back of the Byakhee: space mead.

"Our head brewmaster, Sean Larkin, was just fascinated with this idea of space mead," says Hellendrung. "So he tried to come up with a recipe, inspired by the honey meads that were popular in Lovecraft's time." The finished beer is a robust dark ale with an edge of sweetness, brewed from five malts and two different kinds of hops.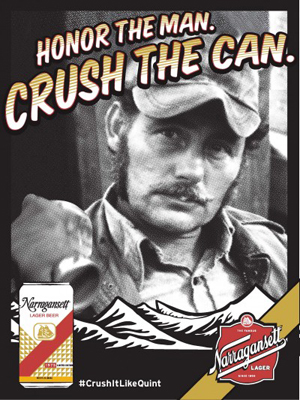 For those outside the region, Narragansett is as New England as a lighthouse full of lobsters. Originally brewed in Rhode Island, the brewery closed in the 80s but was then reanimated in 2005. Today most of their beer is actually made in Rochester, NY, although I believe there are still plans to return it to the church spires and gambrel roofs of its native land.
In any event, Narragansett tall boys have carried this Connecticut writer through some tough times, and the company is no stranger to crossover pop-culture gimmicks: last summer in honor of Shark Week they released their beer in 1975 throwback cans so drinkers could crush them like Quint did in Jaws.
Like many of Lovecraft's characters (and even the author himself), the honey ale is just one member of a twisted family. In April you can drink like a fish with the next in the series, an Innsmouth stout, then follow it later in the year with a beer providentially inspired by Lovecraft's epitaph. No word on the fourth beer in the line but doubtless I'll be drinking it Dr. Muñoz style: ice cold.