New Treasures: Stomping Grounds, edited by Neil Baker
New Treasures: Stomping Grounds, edited by Neil Baker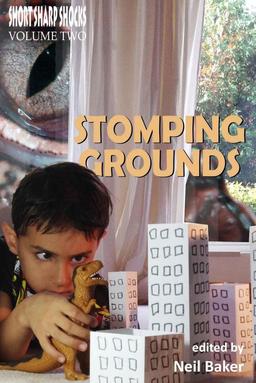 April Moon Books is a new press, but they're not acting like it.
They've produced two of the most innovative — and frankly, most fun — anthologies of the past year, The Dark Rites of Cthulhu and Amok! Editor Neil Baker explains the concept at the heart of their newest release in his introduction:
Just one look at the face of Calvin as he stamps through a sandbox city while Hobbes looks on aghast, or the sheer, unadulterated joy of Stitch as he trashes a carefully constructed city in Lilo's bedroom, reveals the stark truth; it must be a hell of a lot of fun to reduce a city to rubble under your mighty, scaled feet.
Stomping Grounds is the second volume of Short Sharp Shocks, April Moon's short fiction horror line. The third, Ill-considered Expeditions, featuring tales of exploration and derring-do gone horribly wrong, will be released in April.
Stomping Grounds includes 17 short stories celebrating the joy of rampaging giant monsters from CJ Henderson, Aaron Smith, Michael Thomas-Knight, D.G. Sutter, and many others.
Here's the book description.
Giant monsters on the rampage! Civilization on the brink! Sit back, and enjoy the show…

What do a giant hummingbird, a vast, city-sized, energy-guzzling blob and a sentient planetoid have in common? They all want to mess up your day, in a BIG way.

Think you've read every giant monster story there is to read? Think again. How about a colossal, rampaging giraffe? How about THIRTY of them? Beavers are pretty cute, eh? Not when they're snapping your boat in two and gnawing your legs off. How about a little frog? How about a bloody massive frog, straight from the pits of Hell?

A vast, bloodthirsty bug tears through the streets and a mountainous rhinoceros creature answers the prayers of a desperate man. These abominations fight tooth and claw for your attention along with giant hounds, kangaroos, wasps and sea creatures. Then there's ancient Mayan monsters, Lovecraftian terrors from beyond the realms of sanity and insidious beasts of every shape conjured up by human meddling. Oh, and did we mention the platypus?

So here they are, seventeen stories, seventeen monsters, all here to delight and disgust you as they return to their STOMPING GROUNDS!
We last covered April Moon as they investigated the ramifications of Ian Fleming's James Bond entering the public domain in Canada.
Stomping Grounds was published by April Moon Books on December 24, 2014. It is 233 pages, priced a $15.99 in trade paperback and just $3.49 for the digital edition. The cover and interior illustrations are by Neil Baker. Order directly at the April Moon website.
See all of our recent New Treasures here.