New Treasures: Short Sharp Shocks 1: Amok! edited by Neil Baker
New Treasures: Short Sharp Shocks 1: Amok! edited by Neil Baker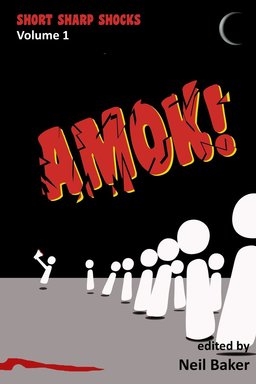 The fine folks at April Moon Books have really hit the ground running. Their first anthology, The Dark Rites of Cthulhu, appeared in March and was a major success — so much so that they've now launched an ambitious line of dark fantasy and horror books.
The first to arrive is Amok!, a collection of intense short fiction from multiple genres — mystery, thriller, dark fantasy, and outright horror — focusing on the modern boogeyman: the spree killer. Amok! is the first release in April Moon's Short Sharp Shocks anthology series; the next, Stomping Grounds!, features monsters causing mayhem and misery. They will be followed by Ill-Considered Expeditions ("Pith helmets at the ready for some unfriendly welcomes!"), Spawn of the Ripper, a tribute to Hammer horror films, and The Stars at my Door, a collection of optimistic science fiction.
An unnerving anthology featuring tales of psychological decline and murderous frenzy!

Office workers snap and vengeful ghosts go on a murderous rampage; a giant, blood-crazed pig rubs shoulders with a monstrous alligator while kids experiment with runes and drugs and suffer the consequences.

Ghouls of every foul persuasion tear through the streets and would-be serial killers stalk every alley way in search of hapless victims. Dark magicks destroy cities and brings warriors back from the grave, and madness eats away at the minds of explorers both past and future. Criminals enjoy violent crime sprees while our uniformed protectors themselves fall under the spell of murderous intent.

Here then, are 26 stories spanning a multitude of genres and themes to both alarm and amuse you as events spiral rapidly out of control, and mankind, monsters and minds run terribly, catastrophically, AMOK!
Short Sharp Shocks 1: Amok! was edited by Neil Baker and published by April Moon Books on September 27, 2014. It is 244 pages, priced at $15.99 in trade paperback and $3.99 for the digital edition. The cover and interior illustrations are by Neil Baker. Order directly at the April Moon website.