Last Chance to Win a Copy of The Madness of Cthulhu, edited by S.T. Joshi
Last Chance to Win a Copy of The Madness of Cthulhu, edited by S.T. Joshi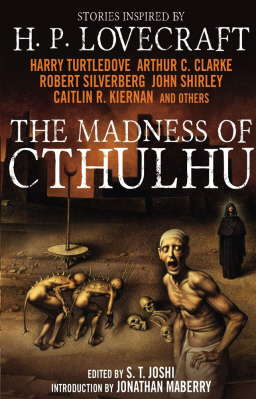 Last week, we told you that you had a chance to win one of two copies of S.T. Joshi's major new horror anthology, The Madness of Cthulhu, Volume One, on sale this month from Titan Books.
How do you win? Just send an e-mail to john@blackgate.com with the subject "The Madness of Cthulhu" and a one-sentence review of your favorite H.P. Lovecraft story (don't forget to identify the story). That's it; that's all that stands between you and a copy of one of the most exciting anthologies of the year. Two winners will be drawn at random from all qualifying entries and we'll announce the winners here on the Black Gate blog. What could possibly be easier? But time is running out — the contest closes October 21st.
The Madness of Cthulhu collects fourteen original tales, and two reprints, inspired by Lovecraft's horror masterpiece At the Mountains of Madness. This is the first of two volumes, with the second to be released Summer 2015. Here's the book description:
Sixteen stories inspired by the 20th century's great master of horror, H.P. Lovecraft, and his acknowledged masterpiece, At the Mountains of Madness, in which an expedition to the desolation of Antarctica discovers evidence of an ancient ruin built by horrific creatures at first thought long-dead, until death strikes the group. All but two of the stories are original to this edition, and those reprints are long-lost works by science fiction masters Arthur C. Clarke and Robert Silverberg.
No purchase necessary. Must be 12 or older. Decisions of the judges (capricious as they may be) are final. Not valid where prohibited by law. Eat your vegetables.
The Madness of Cthulhu, Volume One was published on October 7 by Titan Books. It is 304 pages, priced at $15.95 in trade paperback and $9.99 for the digital version.