New Treasures: The Dark Rites of Cthulhu edited by Brian M. Sammons
New Treasures: The Dark Rites of Cthulhu edited by Brian M. Sammons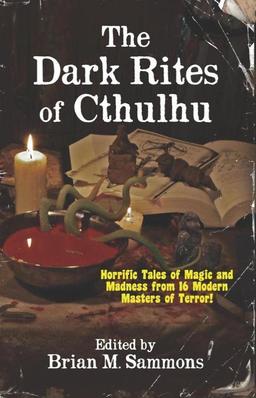 I first met Neil Baker over a decade ago and was surprised by how much we had in common, including our shared love of genre films. He told vastly more entertaining stories than I did — especially his tales of the British film industry, and working on films like Lifeforce. So I wasn't at all surprised when he told me late last year that he was joining the noble and distinguished brotherhood of small press publishers.
In an article for Black Gate last month, Neil told us that his first release, The Dark Rites of Cthulhu, was a collection of stories dealing with "the more magical aspects of Lovecraft's tales, smaller, more intimate stories that explored the consequences of humans meddling in powers beyond their understanding." In a marketplace crowded with a multitude of Cthulhu volumes, this one stands out, with terrific reviews, fabulous design, and excellent interior art by Neil himself. Here's the book description.
For centuries, students of the forbidden arts have probed the inky recesses of the spaces inbetween. Hapless mortals have invoked monstrous entities from beyond through foul magicks, incantations and rituals. When will they learn that there can be no profit nor joy to be gained through relations with the insidious old ones? These sixteen tales of depravity, sorcery and madness may offer some illumination, but ultimately there can be no salvation for those who dabble in The Dark Rites of Cthulhu.

Featuring terrifying new stories by Glynn Owen Barrass, Edward M. Erdelac, John Goodrich, Scott T. Goudsward, T. E. Grau, C.J. Henderson, Tom Lynch, William Meikle, Christine Morgan, Robert M. Price, Pete Rawlik, Josh Reynolds, Brian M. Sammons, Sam Stone, Jeffrey Thomas and Don Webb and edited by Brian M. Sammons, The Dark Rites of Cthulhu shares cautionary tales set in a multiverse of jealousy, greed, desperation and naivety and is guaranteed to delight students of the Dark Arts and followers of the Great Old Ones alike.
The Dark Rites of Cthulhu was edited by Brian M. Sammons and published by April Moon Books on March 28, 2014. It is 224 pages, priced at $18.99 in trade paperback and just $2.99 for the digital version. Buy it directly from the April Moon website. It gets our highest recommendation.