Get Your Own Star Trek Communicator — At Last
Get Your Own Star Trek Communicator — At Last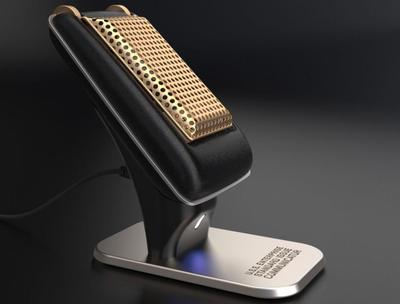 Ever since Leonard Nimoy was spotted using the Motorola StarTac phone in 2000, I've dreamed about getting a cell phone shaped like a Star Trek communicator.
Now Engadget reports that the long, long (long) wait may finally be over, as The Wand Company has procured a license to make and sell a Bluetooth accessory shaped just like a communicator.
In January of 2016, you'll finally be able to buy an official, screen-accurate, Bluetooth-enabled Star Trek Original Series Communicator.

Technically, the replica prop is just a simple Bluetooth handset with pretty basic functionality: it takes calls and plays music. That's about it. It's pretty snazzy looking though — the Communicator is a die-cast metal, aluminum and ABS replica modeled after a 3D scan of the original "Alpha Hero" prop, made and manufactured by The Wand Company. Its magnetic charging connector turns the unit into a pretty nice display piece, too. It's pricey, though: the Communicator will cost $150 when it starts shipping in January — the same price as the replica phaser (and TV remote control!) the manufacturer made last year.
Read the complete article here.