New Treasures: The Year's Best Dark Fantasy & Horror: 2015 Edition, edited by Paula Guran
New Treasures: The Year's Best Dark Fantasy & Horror: 2015 Edition, edited by Paula Guran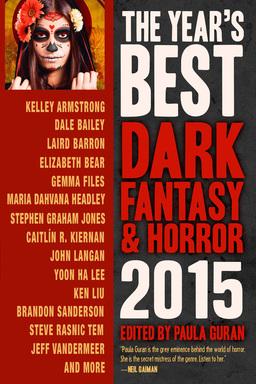 I'm a big fan of dark fantasy, and there's a lot of terrific work going on in the field right now. Dale Bailey, Laird Barron, Gemma Files, Maria Dahvana Headley, John Langan, Ken Liu, Usman T. Malik, Helen Marshall, Simon Strantzas, Steve Rasnic Tem, Lavie Tidhar… these folks and many others are writing excellent fiction.
The real challenge, of course, is finding it. All of the writers above published top-notch stories last year, but you'd have to have access to a top-notch library to get even half of it. A lot of the very best fiction from last year appeared in small print run magazines (like Dark Discoveries, Sirenia Digest, Jamais Vu, SQ Mag and Lackington's), premiere anthologies (such as Dead Man's Hand, Letters to Lovecraft, Fearful Symmetries, Monstrous Affections, and Nightmare Carnival), and small press collections (like Burnt Black Suns, Here with the Shadows, and Black Gods Kiss).
What you really need is an astute editor with impeccable taste who can read through all that material (and a great deal more) for you, and collect the very best, so you can settle back in your favorite recliner with a cool beverage and enjoy the finest dark fantasy and horror from the top practitioners in the field in a single fat anthology, every single year.
You see where this is going, don't you.
Paula Guran and Prime Books have released the sixth volume in their excellent The Year's Best Dark Fantasy & Horror, which collects stories from all of the writers mentioned above, and a great deal more. It is one of three Best of the Year volumes from Prime (the others are Rich Horton's The Year's Best Science Fiction & Fantasy, and the brand new The Year's Best Science Fiction & Fantasy Novellas, also edited by Paula Guran).
Here's the description for this year's volume:
The darkness creeps upon us and we shudder, or it suddenly startles and we scream. There need be no monsters for us to be terrified in the dark, but if there are, they are just as often human and as supernatural. Join us in this outstanding annual exploration of the year's best dark fiction that includes stories of quiet fear, the utterly fantastic, the weirdly surreal, atmospheric noir, mysterious hauntings, seductive nightmares, and frighteningly plausible futures. Featuring tales from masterful authors and talented new writers sure to make you reconsider walking in the shadows alone…
Read the complete Table of Contents of this year's volume here.
Our most recent coverage of Paula Guran's anthologies includes:
Mermaids and Other Mysteries of the Deep
The Fantasy Catalog of Prime Books
Blood Sisters
The Year's Best Science Fiction & Fantasy Novellas 2015
The Year's Best Dark Fantasy & Horror 2015
The Year's Best Dark Fantasy & Horror 2014
The Year's Best Dark Fantasy & Horror 2013
New Cthulhu 2
New Cthulhu: The Recent Weird
Weird Detectives
Season of Wonder
The Year's Best Dark Fantasy & Horror: 2015 Edition was edited by Paula Guran and published by Prime Books on June 25, 2015. It is 576 pages, priced at $19.95 in paperback, and $6.99 for the digital edition.