Future Treasures: The Year's Best Science Fiction & Fantasy Novellas: 2015 edited by Paula Guran
Future Treasures: The Year's Best Science Fiction & Fantasy Novellas: 2015 edited by Paula Guran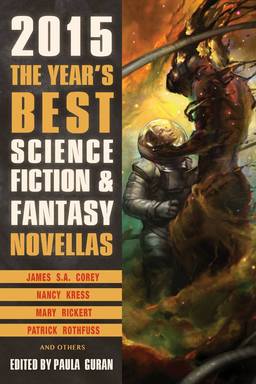 Just this morning, in my article on Peter Crowther's anthology Cities, I observed that the novella is the natural length for fantasy and science fiction. The novella has an exceptional history in this field, from H.G. Wells "Time Machine" to John W. Campbell's "Who Goes There?" to Clifford D. Simak's "The Big Front Yard" and Fritz Leiber's "Ill Met in Lankhmar." Unfortunately, there aren't a lot of places that publish them these days… and even fewer that reprint them. Only a handful of Year's Best volumes can afford to make space for novellas, which means that, if you miss their original appearance (frequently in small press outlets), you may never see some of the finest works published every year.
Paula Guran has set out to rectify that with a brand new anthology series: The Year's Best Science Fiction & Fantasy Novellas: 2015, from Prime Books. It's the companion volume to Rich Horton's popular The Year's Best Science Fiction & Fantasy from the same publisher, which publishes its seventh volume this year, and Paula's own Year's Best Dark Fantasy & Horror. Here's the description.
The Year's Best Science Fiction and Fantasy Novellas: 2015 inaugurates a new annual series of anthologies featuring some of the year's best novella-length science fiction and fantasy. Novellas, longer than short stories but shorter than novels, are a rich and rewarding literary form that can fully explore tomorrow's technology, the far reaches of the future, thought-provoking imaginings, fantastic worlds, and entertaining concepts with the impact of a short story and the detailed breadth of a novel. Gathering a wide variety of excellent SF and fantasy, this anthology of "short novels" showcases the talents of both established masters and new writers.
Here's the complete Table of Contents.
"In Her Eyes" by Seth Chambers (The Magazine of Fantasy & Science Fiction, Jan/Feb 2014)
The Churn: An Expanse Novella by James S. A. Corey (Orbit)
"Where the Trains Turn" by Pasi Ilmari Jääskeläinen (translated by Liisa Rantalaiho) (Tor.com, November 15, 2014)
Yesterday's Kin by Nancy Kress (Tachyon Publications)
"Claudius Rex" by John P. Murphy (Alembical 3, edited by Schoen & Dorrance)
"The Things We Do For Love" by K. J. Parker (Subterranean Press Magazine, Summer 2014)
"The Mothers of Voorhisville" by Mary Rickert, (Tor.com, April 30, 2014)
"The Lightning Tree" by Patrick Rothfuss (Rogues, edited by Martin & Dozois)
Dream Houses by Genevieve Valentine (Dream Houses WSFA/ Wyrm Publishing)
If the name Paula Guran seems familiar, it's because she's been extremely busy recently. Some of her recent anthologies we've covered include:
The Year's Best Dark Fantasy & Horror: 2015
The Year's Best Dark Fantasy & Horror 2014
The Year's Best Dark Fantasy & Horror 2013
New Cthulhu 2
New Cthulhu: The Recent Weird
Season of Wonder
Weird Detectives
Prime Books is one of the finest sources for short fiction in the field, and their books set the standard for high quality SF and fantasy anthologies. Check out our recent survey of their catalog.
The Year's Best Science Fiction & Fantasy Novellas: 2015 is edited by Paula Guran and published by Prime Books. It is 576 pages, priced at $19.95 in trade paperback. No word yet on a digital edition. This is not the final cover. See more details at the Prime Books website.
See all our reports on upcoming releases of interest here.