New Treasures: Season of Wonder, edited by Paula Guran
New Treasures: Season of Wonder, edited by Paula Guran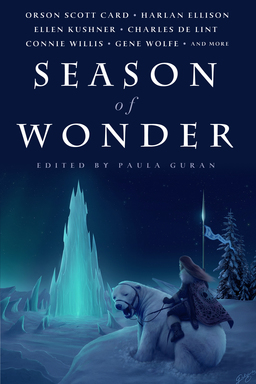 I think a Christmas fantasy anthology is a great idea. For one thing, there's a long history of magical Christmas tales, including some of the most famous in the fantasy genre (especially if you're willing to include Charles Dickens's A Christmas Carol and Jimmy Stewart's It's a Wonderful Life, which of course we are).
Connie Willis used to write a semi-regular Christmas fantasy for Asimov's, and I always thought that was cool. Going by the stellar line-up of authors in Paula Guran's Season of Wonder, she's not the only one seduced into writing a yuletide fantasy: Charles de Lint, Gene Wolfe, Harlan Ellison, Ellen Kushner, Robert Reed, James Patrick Kelly, Robert Charles Wilson — and of course, Connie Willis — plus many others are all included. Here's the back cover copy:
Wonders abound with the winter holidays. Yuletide brings marvels and miracles both fantastic and scientific. Christmas spirits can bring haunting holidays, seasonal songs might be sung by unearthly choirs, and magical celebrations are the norm during this very special time of the year. The best stories from many realms of fantasy and a multitude of future universes, gift-wrapped in one spectacular treasury of wintertime wonder.
Paula's previous anthologies include a wide range of nifty titles, including the altogether splendid Weird Detectives, and Vampires: The Recent Undead, New Cthulhu: The Recent Weird, Ghosts: Recent Hauntings, After the End: Recent Apocalypses, and the ongoing The Year's Best Dark Fantasy & Horror, which she's been editing since 2010. She's practically a one-woman renaissance in fantasy anthologies and we're having trouble keeping up with her.
Some of her recent anthologies we've covered include:
Blood Sisters
The Year's Best Science Fiction & Fantasy Novellas 2015
The Year's Best Dark Fantasy & Horror 2015
The Year's Best Dark Fantasy & Horror 2014
The Year's Best Dark Fantasy & Horror 2013
New Cthulhu 2
New Cthulhu: The Recent Weird
Weird Detectives
Season of Wonder
I have to give a shout out to the beautiful snowy cover, by Nick Deligaris, and especially the eye-catching book design, by Telegraphy Harness. I don't always notice design work, but here it really popped, especially on the stellar back cover.
Season of Wonder was published by Prime Books in October, 2012. It is 382 pages, priced at $15.95 in trade paperback and just $6.99 for the digital version. Get more info, and the complete TOC, on the Prime website.