Future Treasures: Blood Sisters, edited by Paula Guran
Future Treasures: Blood Sisters, edited by Paula Guran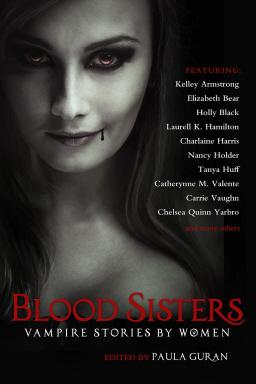 In her lengthy intro to her new anthology Blood Sisters, Paula Guran traces the modern literary history of the vampire, from C.L. Moore ("Whether… Moore's "Shambleau" (1933) is a vampire story may be open to question, but one can make a good argument that the alien Shambleau is a form of vampire") to Stephen King ("Salem's Lot… downplayed vampiric eroticism, upped the level of terror, and focused on the vampire as a metaphor of corrupt power") to Chelsea Quinn Yarbro ("Saint-Germain was the first genuinely romantic and heroic vampire"), and beyond.
In Blood Sisters Guran collects 25 vampire stories by Carrie Vaughn, Catherynne M. Valente, Nancy A. Collins, Suzy McKee Charnas, Pat Cadigan, Nalo Hopkinson, Chelsea Quinn Yarbro, Melanie Tem, Charlaine Harris, and over a dozen other women. It's a stellar line-up, and one of the most intriguing collections of any kind I've seen this year.
A tantalizing selection of stories from some of the best female authors who've helped define the modern vampire.

Bram Stoker was hardly the first author — male or female — to fictionalize the folkloric vampire, but he defined the modern iconic vampire when Dracula appeared in 1897. Since then, many have reinterpreted the ever-versatile vampire over and over again — and female writers have played vital roles in proving that the vampire, as well as our perpetual fascination with it, is truly immortal. These authors have devised some of the most fascinating, popular, and entertaining of our many vampiric variations: suavely sensual… fascinating but fatal… sexy and smart… undead but prone to detection… tormented or terrifying… amusing or amoral… doomed or deadly… badass and beautiful… cutting-edge or classic…
Blood Sisters collects a wide range of fantastical stories from New York Times bestsellers Holly Black, Nancy Holder, Catherynne M. Valente, and Carrie Vaughn, and critically acclaimed writers Chelsea Quinn Yarbro and Tanith Lee, all of whom have left their indelible and unique stamps on the vampire genre. Whether they are undeniably heroes and heroines or bloodthirsty monsters (or something in between), the undead are a lively lot. This anthology offers some of the best short fiction ever written by the "blood sisters" who know them best: stories you can really sink your teeth into.
Here's the complete Table of Contents:
"A Princess of Spain" by Carrie Vaughn
"Shipwrecks Above" by Caitlín R. Kiernan
"The Fall of the House of Blackwater" by Freda Warrington
"In Memory of…" by Nancy Kilpatrick
"Where the Vampires Live" by Storm Constantine
"La Dame" by Tanith Lee
"October 1927" by Jewelle Gomez
"Renewal" by Chelsea Quinn Yarbro
"Blood Freak" by Nancy Holder
"The Power and the Passion" by Pat Cadigan
"The Unicorn Tapestry" by Suzy McKee Charnas
"This Town Ain't Big Enough" by Tanya Huff
"Vampire King of the Goth Chicks" by Nancy A. Collins
"Learning Curve" by Kelley Armstrong
"The Better Half" by Melanie Tem
"Selling Houses" by Laurell K. Hamilton
"Greedy Choke Puppy" by Nalo Hopkinson
"Tacky" by Charlaine Harris
"Needles" by Elizabeth Bear
"From the Teeth of Strange Children" by Lisa L. Hannett
"Father Peña's Last Dance" by Hannah Strom-Martin
"Sun Falls" by Angela Slatter
"Magdala Amygdala" by Lucy Snyder
"The Coldest Girl in Coldtown" by Holly Black
"In the Future When All's Well" by Catherynne M. Valente
Paula Guran has been extremely busy over the past few years. Some of her recent anthologies we've covered include:
The Year's Best Science Fiction & Fantasy Novellas 2015
The Year's Best Dark Fantasy & Horror 2015
The Year's Best Dark Fantasy & Horror 2014
The Year's Best Dark Fantasy & Horror 2013
New Cthulhu 2
New Cthulhu: The Recent Weird
Season of Wonder
Weird Detectives
Blood Sisters will be published on May 5, 2015 by Night Shade Books. It is 480 pages, priced at $15.99 in trade paperback and $9.99 for the digital edition. The cover design is by Claudia Noble. Get more details at the Night Shade website.
See all of our recent coverage of upcoming books of interest to fantasy fans here.