New Treasures: Weird Detectives, edited by Paula Guran
New Treasures: Weird Detectives, edited by Paula Guran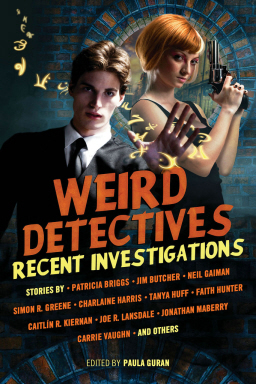 Man, this book is right up my alley. More than that, this book has backed up my alley, unpacked, and moved into my house.
The book in question is Weird Detectives: Recent Investigations, a fat anthology of modern fantasy reprints (nothing older than 2004) edited by Paula Guran, focusing on the new generation of occult detectives and paranormal investigators.
We love occult detectives at Black Gate — witness all the recent attention to the classics of the genre, including Josh Reynolds's encyclopedic Nightmare Men series, William Hope Hodgson's Carnacki The Ghost Finder, the short fiction of Joseph Payne Brennan, Manly Wade Wellman's Complete John Thunstone and Silver John stories, and many, many others.
But it never occurred to me that people were still writing the stuff, despite the resurgence in urban fantasy over the last decade. This is why Paula Guran is a genius. She never lost sight of the thread connecting the pulp classics and the work being done in the same mold today by Neil Gaiman, Elizabeth Bear, Jim Butcher, Joe R. Lansdale, Carrie Vaughn, P.N. Elrod, Bradley Denton, Tanya Huff, Jonathan Maberry, Patricia Briggs, Faith Hunter, and many others. Here's an excerpt from her excellent introduction:
Ghosts appear to Harry Escott in Fitz-James O'Brien's short story "The Pot of Tulips," published in Harper's New Monthly Magazine of November 1855… In 1859 Escott appeared again (in O'Brien's "What Was It? A Mystery," also published in Harper's) and is attacked by a supernatural entity that is, itself, the mystery.

The occult detective had been born. Also known as psychic detectives or ghost hunters, they were more often portrayed as scientists or learned doctors than as true detectives. Rather than dealing with human crimes, these investigators were involved in cases dealing with ghosts, malevolent spirits, arcane curses, demons, monsters, and other supernatural events and entities… A number of these sleuths made appearances in late nineteenth and early twentieth century fiction.
Guran references Joseph Sheridan Le Fanu's Dr. Martin Hesselius (often cited as the first true occult detective), Stoker's Van Helsing, Algernon Blackwood's Dr. John Silence, Carnacki, Aylmer Vance, and Dr. Jules de Grandin.
Wisely enough, she also gives Marvel Comics' Tomb of Dracula and Buffy the Vampire (and its spin-off, Angel) due credit for the modern resurgence in the occult detective genre. The only major modern ghost hunter she overlooked was Kolchak the Night Stalker (and that almost seems apt, somehow. Poor Kolchak, he never got any credit.)
Guran collects nearly two-dozen stories to compile what appears to be a fairly thorough survey of the best modern occult detectives — including more than a few featured in popular novels, like Jim Butcher's Harry Dresden, Tanya Huff's Tony Foster, Charlaine Harris's Dahlia Lynley-Chivers (from the Sookie/True Blood books), Carrie Vaughn's Jesi Hardi (the Kitty Norville novels), and many others.
Here's the book description:
Paranormal investigators. Occult detectives. Ghost hunters. Monster fighters. Humans who unravel uncanny crimes and solve psychic puzzles; sleuths with supernatural powers of their own who provide services far beyond those normal gumshoes, shamuses, and Sherlocks can. When vampires, werewolves, and things that go "bump" in the night are part of your world, criminals can be as inhuman as the crimes they commit, and magic can seep into the mundane – those who solve the mysteries, bring justice, or even save the world itself, might utter spells, wield wands as well as firearms, or simply use their powers of deduction. Some of the best tales of the last decade from top authors of the 21st century's most popular genres take you down mean streets and into strange crime scenes in this fantastic compilation.
And here's the complete contents.
Table of Contents
Introduction, Paula Guran
"The Key" by Ilsa J. Blick
"The Nightside, Needless to Say" by Simon R. Green
"The Adakian Eagle" by Bradley Denton
"Love Hurts" by Jim Butcher
"The Case of Death and Honey" by Neil Gaiman
"Cryptic Coloration" by Elizabeth Bear
"The Necromancer's Apprentice" by Lillian Stewart Carl
"The Case of the Stalking Shadow" by Joe R. Lansdale
"Hecate's Golden Eye" by P.N. Elrod
"Defining Shadows" by Carrie Vaughn
"Mortal Bait" Richard Bowes
"Star of David" by Patricia Briggs
"Imposters" by Sarah Monette
"Deal Breaker" by Justin Gustainis
"Swing Shift" by Dana Cameron
"The Beast of Glamis" by William Meikle
"Signatures of the Dead" by Faith Hunter
"Like a Part of the Family" by Jonathan Maberry
"Fox Tails" by Richard Parks
"Death by Dahlia" by Charlaine Harris
"Sherlock Holmes and the Diving Bell" by Simon Clark
"See Me" by Tanya Huff
"The Maltese Unicorn" by Caitlín R. Kiernan
Paula Guran's previous anthologies include Vampires: The Recent Undead, New Cthulhu: The Recent Weird, Ghosts: Recent Hauntings, After the End: Recent Apocalypses, and the ongoing The Year's Best Dark Fantasy & Horror. Some of her recent anthologies we've covered include:
Blood Sisters
The Year's Best Science Fiction & Fantasy Novellas 2015
The Year's Best Dark Fantasy & Horror 2015
The Year's Best Dark Fantasy & Horror 2014
The Year's Best Dark Fantasy & Horror 2013
New Cthulhu 2
New Cthulhu: The Recent Weird
Weird Detectives
Season of Wonder
Weird Detectives was published March 19, 2013 by Prime Books. It is 477 pages, priced at $16.99 in trade paperback, and just $6.99 for the digital edition.
See all of our recent New Treasures here.