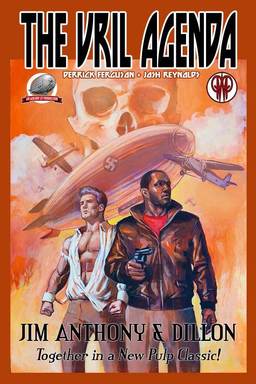 One of the first things I did when I landed at the Windy City Pulp and Paper show on Friday was make a beeline for the Airship 27 booth.
Time is finite and the Windy City Dealer's room is vast, and to make sure you get the treasures you really want, it helps to be a little determined. The treasures I really wanted this year included B.C. Bell's 1930's pulp vigilante novel, Tales of the Bagman, which I wrote about enthusiastically in my report on last year's show, and Jim Beard's supernatural detective collection, Sgt. Janus, Spirit-Breaker — both of which are published by Airship 27. Plus, I wanted to make sure I had plenty of time to look over their whole table, since it's always piled high with a tantalizing array of new titles.
As proprietor Ron Fortier happily sold me those two volumes, I casually mentioned that I'd first heard of Sgt. Janus via Josh Reynolds's splendid Nightmare Men column, published at the fabulous Black Gate website… which, coincidentally, I happened to run, did I mention? Without missing a beat, Ron pointed out one of the many titles on his table, saying, "Josh is a terrific guy. That's his latest book, a new pulp adventure, right there."
I was suitably astounded. Here I was, trying to impress Ron by name-dropping Josh Reynolds, and he was able to produce a novel I didn't even know existed! I know when I've been one-upped. Besides, I've known Josh as a terrific writer for years, so it was a thrill to discover he'd written a pulp adventure novel.
The Vril Agenda was co-written by Derrick Ferguson, author of Dillon and the Voice of Odin. Derrick does a terrific job of relating how the book came about on his blog and I think I'll turn it over to him:
It got into my melon of a head a particular obsession to have Dillon be trained in various disciplines by the great pulp champions of the past. Since Dillon is a spiritual son of those heroes, I always thought it would be a gas for him to seek out some of these men and women to learn what they know…  Of course I knew I couldn't use The Big Three by name. I'm talking about Doc Savage, The Shadow and The Avenger. But I could allude to them…
---