The Nightmare Men: "The Spirit-Breaker"
The Nightmare Men: "The Spirit-Breaker"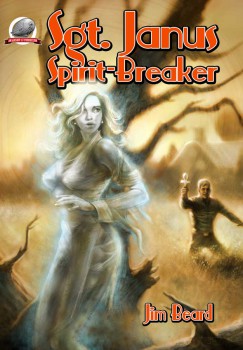 'His eyes were icy verdigris, but warm also, and piercing — in a kind way. He was dressed smartly in a long coat of an almost military cut and dark pants with gold piping.' So writes the narrator of the 2012 story, "The Portobello Cetacean" as she first lays eyes on her host, Sgt. Roman Janus, late of Mount Airy, the man known as the 'spirit-breaker'.
Created in 2012 by Jim Beard, Janus is equal parts Carnacki, Aylmer Vance, and John Silence, and was intentionally crafted as equal parts homage and successor to those earlier Edwardian occultists.
Like Silence, Janus is less a two-fisted hero than an agent of a higher spiritual power, doling out harsh justice and due kindness with equal determination.  And like Aylmer Vance, Janus's kind-hearted nature is both a boon and a weakness, helping him at times and hindering him at others.
"I am Roman Janus. It is a pleasure to meet you."

–Sgt. Roman Janus, "The Portobello Cetacean" (2012)
Janus first appeared in the aforementioned 2012 story, "The Portobello Cetacean," which is the first story in the collection, Sgt. Janus, Spirit-Breaker. As with all of the stories in the collection, Janus is seen solely from the perspective of the narrator—in this case, a distraught, devil-haunted young woman. The perception of Janus changes with each story, from hero to conman, from saviour to sinister Svengali, depending on the narrator's bias.
As such, little about him is revealed. Unlike Titus Crow, Janus appears on stage fully formed and fighting fit. There are few hints as to his previous life or the origins of his crusade, save a few hints dropped in stories such as "The Corkworth Fortune". Indeed, even Janus's proper rank and regiment are unknown, and no records of his military service exist to be found by those who are inclined to search. Janus's investigative methods change as well, from story to story. In "The Portobello Cetacean", he is an at-times sinister story-teller. In "The Corkworth Fortune," Janus is every inch the occult detective—emphasis on 'detective.'  In "This Unbroken Lock," he is something of a therapist, counselling the living and the dead alike. Thus, Janus remains an enigma throughout the collection, with only a few key facts to anchor him.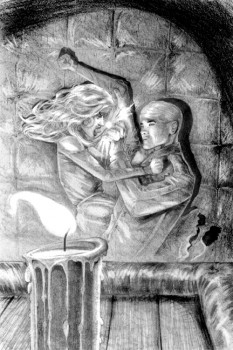 Janus is well-schooled in the occult, possessing a massive library of esoteric lore, containing such treatises as Grand Thoughts of the Mages and the chilling little pamphlet simply called Do Not Open This Book. The library is ensconced in the aptly-named Janus House—Janus's domicile in the bucolic Mount Airy. The house displays facets like a gem, each one bringing to mind a different architectural style, and turrets and gables sprout from its hulking shape seemingly at random. The house, much like its owner, is described by turns as grim, jovial, brooding, welcoming, and sinister. There are more rooms than doors and more doors than walls within its confines; among the former are the Room of Tableau, the Room of Confrontation, and the Room of Cabinets, each possessing its own function and form that Janus utilizes when necessary.
The house and its functions are overseen by a mysterious woman whose name Janus refuses to reveal to even his closest companions. Raven-haired and dressed in a dark smock of elegant design, the woman acts as housekeeper, secretary, and confidant. As much an enigma as her employer, she glides through the stories much like the ghosts Janus confronts, her comings and goings mysterious.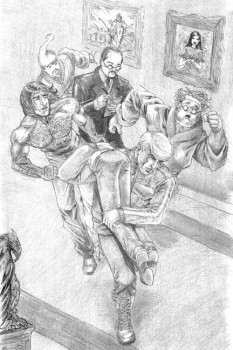 Almost as mysterious as the house and its keeper is the artefact.  At times, Janus wields a strange circular device which possesses many functions, from enabling spirits to find their rest as in the story "A Bad Business," to seeing off troublesome predatory spectral entities as it does in the story "When the Rain Comes."  The origin of the artefact, much like that of its master, is never revealed, nor is the story of how Janus acquired such a potent example of occult paraphernalia ever touched on. Like Janus and his eponymous home, it simply is.
Regardless of the mysteries that layer Janus, throughout the eight stories that make up the collection, he throws his all into every encounter, risking physical, mental, and spiritual collapse on behalf of those who require his aid, regardless of which side of the veil they are on. Again and again, Sgt. Janus puts himself between the innocent and the things which would prey upon them, despite the seemingly final cost to himself in the last story in the collection, the appropriately titled "The Unfinished Record".
But it's hard to keep a good ghost-breaker down. Someday, in some way, Sgt. Janus may return. Until then, Sgt. Janus, Spirit-Breaker is available in print and electronic formats. There is also a dedicated website, http://sgtjanus.blogspot.co.uk/ with snippets, artwork, free stories, and even a series of posts where the redoubtable Sergeant answers questions from his fans!
'He only wished to help others…Janus asked little for himself and he gave much…'

-Jim Beard, "The Unfinished Record", 2012
Previous entries in THE NIGHTMARE MEN:
'A Doctor, Darkly'-Dr. Martin Hesselius
'Physician Extraordinary'-John Silence
'The Ghost-Finder'-Thomas Carnacki
'The Judge'-Judge Keith Hilary Pursuivant
'The Supernatural Sleuth'-Anton Zarnak
'The Haunted Wanderer'-John Kirowan
'The Enemy of Evil'-John Thunstone
'God's Madman'-Abraham Van Helsing
'The Good Inspector'-Inspector Legrasse
'Master by Name, Master by Number'-Titus Crow
'The Spirit-Breaker'-Sgt Janus
♦♦♦
Josh Reynolds is a freelance writer of moderate skill and exceptional confidence. His novel, Knight of the Blazing Sun, is available from Black Library. His short fiction has appeared in such anthologies as Historical Lovecraft and Horror for the Holidays. Feel free to check out his take on the occult detective genre, featuring Charles St. Cyprian, the Royal Occultist at http://royaloccultist.wordpress.com/ or visit his blog, HUNTING MONSTERS at http://joshuamreynolds.wordpress.com/