Future Treasures: Warhammer Horror: The Wicked and the Damned by Josh Reynolds, David Annandale, and Phil Kelly
Future Treasures: Warhammer Horror: The Wicked and the Damned by Josh Reynolds, David Annandale, and Phil Kelly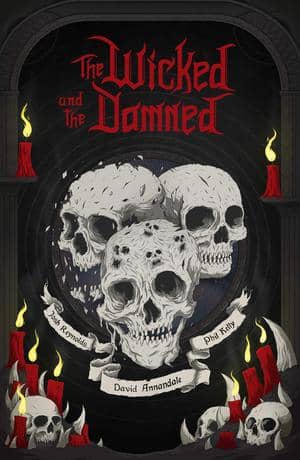 Five years ago, when I was commuting to Glenview and in the car three hours a day, I got hooked on Warhammer 40K audio books. My favorites were the Horus Heresy volumes, especially Ben Counter's epic tale of betrayal and revenge Galaxy in Flames, but I devoured them all.
I take the train these days, and don't keep up on the unfolding drama in the dark days of the 40th Millennium the way I used to, but I still pay attention when I can. So I was very intrigued to hear about the launch of Warhammer Horror, a new line of books and audio plays (wait… like the current line isn't dark enough??) It arrives next month with three launch titles, the short-story anthology Maledictions, an audio drama titled Perdition's Flame, and a collaborative novel titled The Wicked and the Damned, from three stars of the Warhammer stable. That last one is the one that really interests me, and mostly because of this description:
A chilling mosaic novel by masters of their craft.

On a misty cemetery world, three strangers are drawn together through mysterious circumstances. Each of them has a tale to tell of a narrow escape from death. Amid the toll of funerary bells and the creep and click of mortuary-servitors, the truth is confessed. But whose story can be trusted? Whose recollection is warped, even unto themselves? For these are strange stories of the uncanny, the irrational and the spine-chillingly frightening, where horrors abound and the dark depths of the human psyche is unearthed.

"A chilling portmanteau. I could feel the hairs on the back of my neck prickling. The perfect combination of horror and Warhammer 40,000." – Paul Kane.
Josh Reynolds wrote the popular Nightmare Men series on occult detectives here at Black Gate, David Annandale is the author of the Yarrick series and a contributor to The Beast Arises, and Phil Kelly is the man behind War of Secrets and Crisis of Faith.
The Wicked and the Damned will be published by Warhammer Horror on April 2, 2019. It is 400 pages, priced at $16 in trade paperback. No word on a digital version yet. See all our previous Warhammer coverage here.