Goth Chick News: Kolchak Stalks Again
Goth Chick News: Kolchak Stalks Again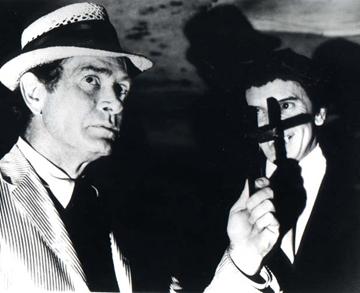 You remember him, I know you do.
A wise-cracking, would-be-hard-bitten newsman in a battered seersucker suit and straw hat looking like he just stepped out of a 1940's gumshoe flick — except for that slick, yellow Ford Mustang convertible he's tooling around in.
But Carl Kolchak took a wrong turn somewhere and ended up in a couple of 1970's TV movies and a short-lived TV show in which he kept stumbling across increasingly outrageous news stories that not only put his life in imminent danger, but inevitably involved horrific supernatural or paranormal beings.
Cue the distinctive, whistled theme music and pull up a 1970's faux leatherette lounge chair (orange preferably); it's time for The Night Stalker…
The character of Carl Kolchak first appeared in the novel The Kolchak Papers written by Jeff Rice in 1971. ABC Television seemed to know gold when they saw it and the spine-tingling tale of supernatural terror was optioned for the screen even before it hit store shelves.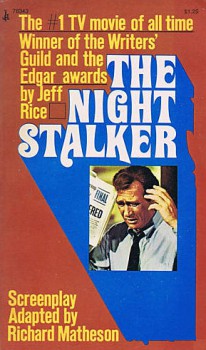 In January, 1972 it served as the basis for a made-for-TV movie and was renamed The Night Stalker; starring Darren McGavin and adapted by legendary Twilight Zone screenwriter Richard Matheson.
At the time, the show garnered the highest ratings of any television movie since such things had been measured.
Impressed by the success of the first outing, ABC commissioned Richard Matheson to write a second movie, The Night Strangler (1973) and simultaneously The Kolchak Papers was published by Pocket Books, hitting store shelves as a wildly successful mass-market paperback under the title The Night Stalker, with Darren McGavin on the cover.
In a rather strange twist of events, Jeff Rice was then commissioned to write a second novel based on Matheson's Night Strangler screenplay.
In late 1973, Matheson and sci-fi author William F. Nolan (creator of my all-time-favorite Logan's Run trilogy) completed a script for what was to be a third TV movie entitled The Night Killers, but ABC decided it wanted a weekly series instead.
It took some convincing to get Darren McGavin to play a recurring role as Kolchak and the deal may have been sweetened by McGavin being made the show's executive producer. Then again, even McGavin admitted that due to the fast production time of a television series, he drew a lot of Kolchak's characteristics from within himself and the character had grown on him.
McGavin's widow (he died in 2006), Kathie Browne McGavin states in The Night Stalker Companion by Mark Dawidziak:
He was very, very close to Kolchak.  The people who really love The Night Stalker love Kolchak because he never gives up.  He's fighting, always fighting.  You can take the monsters and take them to be anything you want – the government, big business, corrupt officials.  The hero comes at the end, beaten up but ready to go on fighting another day.  I think Darren had a lot of that in his own personality.
The TV series, variously known as Kolchak, or The Night Stalker or most often as Kolchak: The Night Stalker debuted (fittingly) on Friday, September 13th, 1974.
In the series short run it managed to tackle most of the major monster myths including vampires, werewolves, mummies and zombies. The series also dealt with creatures from science fiction including a killer android and an invisible extra-terrestrial.
At their best, Night Stalker's ratings were mediocre in spite of a cult-like following and it wasn't long before McGavin become dissatisfied with what he felt were "monster of the week" plotlines and an overly-exhausting filming schedule. He asked to be released from his contract with two episodes remaining, and the network agreed in light of the show's dwindling viewership.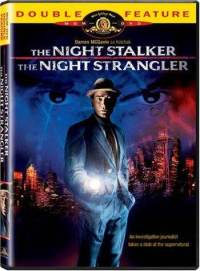 Some blame the shows demise on the lawsuit brought against the series production company by Jeff Rice (the original creator of the Kolchak character, remember?) alleging the TV series was done without his permission.
ABC Television maintained ownership of the two made-for-TV movies and thirty years later tried out a new Night Stalker series in September, 2005 with Carl Kolchak played by Stuart Townsend.
However less than two months later ABC announced it was being cancelled due to low ratings. The aired and unaired episodes went straight to DVD.
But The Night Stalker's original band of loyalists from its first appearance on the small screen continued to flourish, so it was inevitable that Carl Kolchak would live on in a variety of other media including comic books and short-fiction anthologies.
The Night Stalker also began its rounds in syndication with a healthy consistency closely following its cancellation and MGM Home Video released the two original TV movies on DVD in 2004. Universal Studios released the complete TV series a year later.
Darren McGavin went on to an amazing career in movies and television for another thirty-plus years appearing in dozens of other series including Murder She Wrote and Murphy Brown.
However, in 1983 McGavin created another iconic character in the form of "the old man," Ralphie's obscenity-soaked father in A Christmas Story.
Whether you saw it when it first aired in 1972, discovered it later in syndication or experienced on DVD (the original TV series, not that abomination from 2005), Carl Kolchak, Chicago newspaper reporter aka The Night Stalker has likely found a permanent place among your personal pop-culture icons.
If so, you're in good company.
The X-Files creator Chris Carter has acknowledged that the show greatly influenced his own work crediting at least 30% of his story line ideas as having their origins in The Night Stalker. Carter went so far as to pay tribute to Kolchak in a number of ways in The X-Files. A character named "Richard Matheson," named after The Night Stalker's pilot films' screen writer appeared in several X-Files episodes.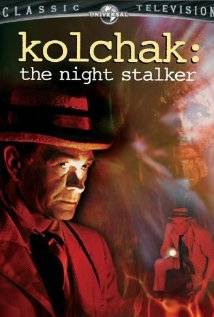 Carter also asked McGavin to appear as Kolchak in several installments but McGavin was unwilling to reprise the character. He did however appear in two episodes as Arthur Dales, a retired FBI agent described as the "father of The X-Files."
And now we get to the more recent juicy bits.
This week it was announced that Johnny Depp's production company, Infinitum Nihil has worked out a deal with Disney to develop two major movies for Depp to produce and star in. One is a big screen take on the story of Paul Revere's midnight ride and the other…
Wait for it…
Is an adaptation of Kolchak: The Night Stalker.
Depp has long expressed a nostalgic fondness for Carl Kolchak and said the role is extremely tempting to him.
If this sounds ever so slightly familiar, it's because you read nearly the same story here before, as it pertains to Depp's current project, Dark Shadows and the character Barnabas Collins.
No word on a release date or whether Depp will stage his Night Stalker in the present day, but no matter how you cut it, Carl Kolchak is so timeless (especially in the guise of our boy Johnny) that one might believe he succumbed to one of his own vampire quarries.
But no; as we've established here, no self-respecting vampire would be caught dead in a seersucker suit, a straw boater's hat and tennis shoes.
Are you a fan of The Night Stalker? If so, what's your favorite episode and how do you feel about all these TV classics getting the big screen treatment? Post a comment or drop me a line at sue@blackgate.com.