Goth Chick News: Barnabas Collins Rises
Goth Chick News: Barnabas Collins Rises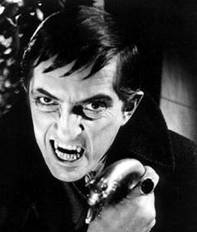 Though I would normally start this post by ranting about the lack of originality in Hollywood and threaten to stick my thumbs in the Black Gate blender if yet one more remake crawls into a theater near me, I'm brought up short by news of a project with a serious pedigree.
Dark Shadows is slated to start production this Spring for an early 2012 release.
If you tell me you aren't acquainted with Mr. Barnabas Collins I will first need to inquire how the weather here compares with your home in the Congo, and did you have a pleasant flight into civilization yesterday? I would then go on to tell you that Dark Shadows was a first-of-its-kind gothic soap opera dealing primarily with supernatural themes and if, like me, you were to discover it for the first time while watching contraband reruns at a 10-year-old's birthday sleepover, it would have scared the crap out of you.
First impressions, no matter how traumatic, can stick with a person for a lifetime and Dark Shadows clearly stuck with a large segment of the population.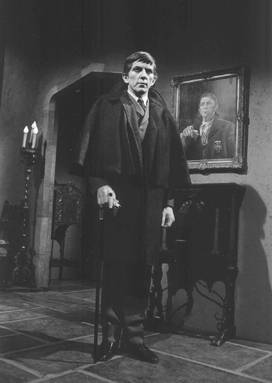 The series, created by Dan Curtis, originally aired weekdays on the ABC television network from June 27, 1966 to April 2, 1971 and though the look and feel of the plots screamed Victorian horror novel, it was actually six months into the storyline before the first ghost was introduced.
And it wasn't until March, 1967 that the 200-year-old vampire Barnabas Collins made his appearance, propelling Dark Shadows into ABC's first-ever win in the early ratings wars.
The series and its cast of other recurring supernatural characters embedded themselves into pop-culture long after the show's demise and Dark Shadows — much like Barnabas himself — became immortal, eventually finding its way into a radio drama, two spin-off novels, two board games, several coloring books, a newspaper comic strip, a series of comic books and, cementing its place forever in our collective psyches, a View Master reel.
Take that Edward Cullen.
In 1991, a short-lived primetime remake of Dark Shadows was produced by MGM Television and aired on NBC from January 13 to March 22.
The revival was lavish, and although it was a huge hit at introduction (watched by almost 1 in 4 households, according to official ratings), an untimely international incident would inflict a fatal wound to the show.
The onset of the Gulf War caused NBC to continually pre-empt or reschedule the early episodes, resulting a loss of momentum with viewers. Dark Shadows was staked a second time after only twelve episodes.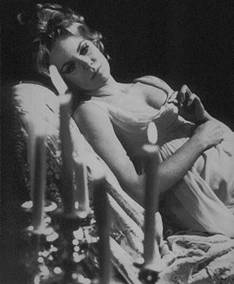 Plans for another revival series or film have been discussed off and on ever since. In 2004, a pilot for a new WB network Dark Shadows series was written and shot, but never picked up.
But in finally in July 2007, Warner Bros. announced they had purchased the film rights of the Dark Shadows television series from the estate of Dan Curtis (the show's creator, producer, and director). Warner Bros. teamed with Johnny Depp to star in and produce the film with his Infinitum Nihil production company.
Depp has had a lifelong obsession with Dark Shadows, calling it a "childhood dream" to portray Barnabas Collins. By June 2008, Depp had signed his creative poker buddy Tim Burton to direct and away we go.
However, up until lately we haven't heard much else about the casting beyond Depp, but can now confirm the following:
Eva Green (Kingdom of Heaven and Casino Royale) has been cast to play Angelique, the witch who placed Barnabas under the vampire curse back in 1795.
Bella Heathcote (Neighbours TV series) will be playing resident "damsel in distress" Victoria Winters.
Jackie Earl Haley (The Watchmen and Shutter Island) has been cast as Willie Loomis, the violent drifter who unleashes Barnabas Collins by opening his coffin.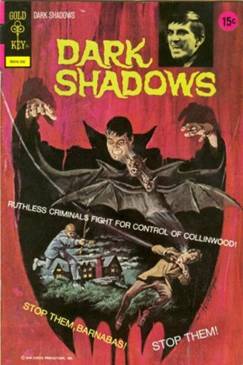 Michelle Pfeifer (who needs no background credits) is currently in negotiations to play Elizabeth Collins Stoddard, the reclusive matriarch of the Collins family. It has widely been reported as of today that she has definitely signed.
For those of you that can't wait a whole year to get your Barnabas Collins fix, you can always plan to be in New York in August for this year's annual Dark Shadows Festival.
While you're there, you can also join the Dark Shadows Fan Club, pick up some original master reels of the show or get that Dark Shadows stationary you've just been dying for.
Are you a Dark Shadows fan or would you pay to hear the Betty Crocker Cook Book read aloud of Johnny Depp were doing the reading?
In either case, post a comment or drop me a note to sue@blackgate.com.
Coming in March: Coverage of the 2011 Halloween Costume and Party Show from St. Louis, MO.