SF Site reviews Black Gate 15
SF Site reviews Black Gate 15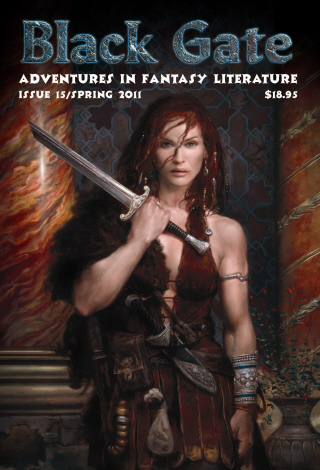 Sherwood Smith continues her uninterrupted run of Black Gate reviews with a lengthy look at our latest issue at SF Site:
The previous issue, at nearly 400 pages, was so successful that the decision was made to stay at that length. For the amount, the price is quite reasonable, and the online subscription is half that. There are plans for issues compatible with Kindle and other e-readers. Judging by Black Gate's consistent quality, moving away from the pressure of seasonal publication has been a good one… here we've got a broad range of fantasy adventure fiction, from horror to comedy, at a variety of lengths. This spectrum, along with the regular columns, is another of Black Gate's strengths.
Sherwood seemed particularly taken with "A River Through Darkness and Light" by John C Hocking:
Lucella, a tough warrior woman, and the first-person narrator Archivist, have history together, as they travel in search of a hidden stash of ancient scrolls, accompanied by a scholar and an old soldier. Unfortunately, they are chased by bandits bent on vengeance… and then there's the demon…

I think of Hocking's stories as characteristic of Black Gate: a strong blend of the old sword and sorcery action and mood, but with modern attention to character development, especially of the women. Lucella, like Asdis in Hocking's Norse tales, can hold her own in a world of heroes and demons. Dark and vivid, shot through with moments of humor, this story is a promising opening to the issue.
As well as "Into the Gathering Dark" by Darrell Schweitzer:
At first, when I saw that this was another tale of True Thomas, I settled in for a familiar ride. The story of Thomas has seen many versions, especially in the last thirty years. But Schweitzer does not inject this last tale of True Thomas with modern sensibilities. Exquisitely poignant, it is one of the best stories in the issue, beautifully rendering all that was best in the tales of Elfland, "neither of Heaven or of Hell," of a century ago.
And "Dellith's Child" by Nye Joell Hardy:
In this world, ship-owning families never set foot on land, and the female captains inherit the ability to see ley-lines, crucial on the vast oceans. The first person narrator, Grady, is visiting his sister Dellith on her ship. At first he's delighted to learn that she has a son… until he sees the sea monster she calls by her son's name. Then the whole world goes askew. Grady is a sympathetic hero in a fascinating world, the tension never flags, and the ending is unpredictable. This was one of my favorites.
The complete review is here. Sherwood's previous review, of Black Gate 14, is here.