Vintage Treasures: The Casebook of Carnacki The Ghost Finder by William Hope Hodgson
Vintage Treasures: The Casebook of Carnacki The Ghost Finder by William Hope Hodgson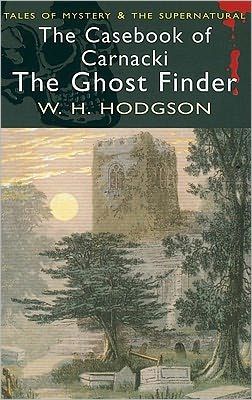 William Hope Hodgson is almost unique among his contemporaries: his most famous novels, The House on the Borderland and The Night Land, have been continuously in print for the better part of the last hundred years. H.P. Lovecraft described The Night Land, first published in 1912, as "one of the most potent pieces of macabre imagination ever written."
But Hodgson wrote many other highly-respected works of horror and dark fantasy, and here his publication history is a little more spotty. Perhaps chief among them are the tales of Carnacki The Ghost Finder, a supernatural detective who came up against horrors that would have made Van Helsing blanche. I'm pleased to say that the Wordsworth Tales of Mystery And The Supernatural have not let us down, and in 2006 they brought the complete collection back in print in a handsome and inexpensive edition.
"'I saw something terrible rising up through the middle of the 'defence'. It rose with a steady movement. I saw it pale and huge through the whirling funnel of cloud – a monstrous pallid snout rising out of that unknowable abyss. It rose higher and higher. Through a thinning of the cloud I saw one small eye… a pig's eye with a sort of vile understanding shining at the back of it."

Thomas Carnacki is a ghost finder, an Edwardian psychic detective, investigating a wide range of terrifying hauntings presented in the nine stories in this complete collection… Encountering such spine-chilling phenomena as 'The Whistling Room', the life-threatening dangers of the phantom steed in 'The Horse of the Invisible' and the demons from the outside world in 'The Hog', Carnacki is constantly challenged by spiritual forces beyond our knowledge. To complicate matters, he encounters human skullduggery also. Armed with a camera, his Electric Pentacle and various ancient tomes on magic, Carnacki faces the various dangers his supernatural investigations present with great courage.
Josh Reynolds explored the career of Carnacki The Ghost Finder in greater detail as part of The Nightmare Men series last year.
We've covered ten volumes in the Wordsworth Tales of Mystery And The Supernatural series so far:
The Crimson Blind and Other Stories by H.D. Everett
Couching at the Door by D.K. Broster
The Casebook of Carnacki The Ghost Finder by William Hope Hodgson
The Beast with Five Fingers by W.F. Harvey
The Power of Darkness — Tales of Terror, by Edith Nesbit
Alice and Claude Askew's Aylmer Vance, The Ghost-Seer
The Black Veil & Other Tales of Supernatural Sleuths edited by Mark Valentine
Voodoo Tales: The Ghost Stories of Henry S. Whitehead
Sherlock Holmes: The Game's Afoot, edited by David Stuart Davies
The Casebook of Sexton Blake, edited by David Stuart Davies
There's plenty more to come, so stay tuned.
The Casebook of Carnacki The Ghost Finder by William Hope Hodgson was published in 2006 by Wordsworth Editions. It is 191 pages in paperback priced at $6.99. There is no digital edition.