Vintage Treasures: The Shapes of Midnight by Joseph Payne Brennan
Vintage Treasures: The Shapes of Midnight by Joseph Payne Brennan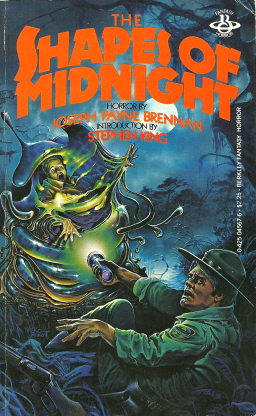 Joseph Payne Brennan isn't discussed much these days. He died over twenty years ago, in 1990, the same year his last book was released, The Adventures of Lucius Leffing, the fourth volume featuring his Carnacki-like occult detective.
Brennan wrote only two novels. But he is mostly remembered for his classic horror stories, published in Weird Tales, Whispers, Alfred Hitchcock's Mystery Magazine, and over 200 horror anthologies. His most famous story, "Slime," featuring a sinister new form of protoplasmic life which emerges from the ocean, was originally published in the March 1953 issue of Weird Tales and has been reprinted more than fifty times. It has influenced countless horror stories ever since, from the Steve McQueen film The Blob (which Brennan successfully sued for copyright infringement) to Stephen King's famous short story, "The Raft," which also features a horrific killer protoplasm in a lake.
Brennan's imagination wasn't limited to primordial monsters, however. One of his most acclaimed short stories, "Canavan's Back Yard," imagines an overgrown lot so twisted and mazelike that most who venture into it never return.
Brennan isn't someone I discovered in the magazines. In fact, up until this week, I was pretty sure I'd never read anything by him at all. He's been mentioned a few times here on the Black Gate blog, most recently in Douglas Draa's review of Hauntings: Tales of the Supernatural, and in the discussion surrounding Robert E. Howard's The People of the Black Circle.
But I'd been curious about his 1980 paperback collection, The Shapes of Midnight, containing both "Slime" and "Canavan's Back Yard," and my interest was heightened by the comments Doug Draa made on my People of the Black Circle article. So I became determined to get a copy, and in June I finally succeeded.
It's a slender volume, just 176 pages, containing a dozen stories. The enthusiastic introduction is by a young horror writer who burst on the scene just six years earlier, with a successful horror novel titled Carrie. Here's what Stephen King had to say about Joseph Payne Brennan, taken from his introduction to The Shapes of Midnight.
There are times when you know you are in the hands of a storyteller working at the height of his powers, and those are rare and wonderful moments to be treasured — among my own I number my first reading of Mark Twain's Tom Sawyer, Bram Stoker's Dracula, Harlan Ellison's "The Sound of a Scythe"… and Joseph Payne Brennan's classic story of right-out, right-on horror, "Slime"…

Joseph Payne Brennan is one of the most effective writers in the horror genre, and he is certainly one of the writers I have patterned my own career upon; one of the writers whom I studied and with whom I kept school.
King is also a fan of  "Canavan's Back Yard," as he calls out special attention to it in his intro: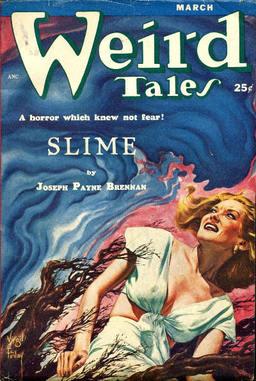 There is a story in this collection which I consider to be one of the dozen best stories of the macabre ever written by an American, in the genre or out of it. The black hood of horror flowing out of the swamp in "Slime" is all very well… but it is in a simple back yard full of weeds and overgrown with autumn-dry, brindle-colored grass that you may find the deepest reverberations of terror. You will find no terrible monster in the back yard of Canavan the antiquarian, no walking zombies, no terrible creation of superscience. It's just a back yard, but something is wrong with it. Dreadfully wrong. You'll find out. The only stories which come to mind as equals of Joseph Payne Brennan's "Canavan's Back Yard" in terms of cumulative effect and quiet overall success are Charlotte Parkins Gilman's "The Yellow Wallpaper" and William Faulkner's "A Rose for Emily"…

There are collections of short stories that are meant to be read not just once but many times… Charles Beaumont's The Magic Man is such a collection; Ray Bradbury's The October Country; Richard Matheson's Shock; Fritz Leiber's Night's Black Agents. Here is another, long overdue but finally here.
Brennan began his writing career in the pages of Weird Tales in 1952 and just a year later produced "Slime." He kept writing right up until his death at the age of 71.
Brennan also published his own horror magazine, Macabre, from 1957 to 1976, where he published much of his own work. Anyone who edits his own magazine earns a special place in my heart.
The stories in The Shapes of Midnight span the first two decades of his career, from 1953 to 1973. He produced a grand total of 18 other collections during his lifetime, including Nine Horrors and a Dream (1958), Scream at Midnight (1963), Stories of Darkness and Dread (1973), Edges of Night (1974), Creep to Death (1981), and The Borders Just Beyond (1986).
The great Virgil Finley did the cover to the March 1953 Weird Tales, featuring Brennan's "Slime," but for my money Kirk Reinert's cover to the The Shapes of Midnight, which interprets the same story, is the superior effort, as it captures both the strangeness of the alien horror – and its relentless hunger.
Here's a scan of the back cover, with the complete book description (click for a legible version):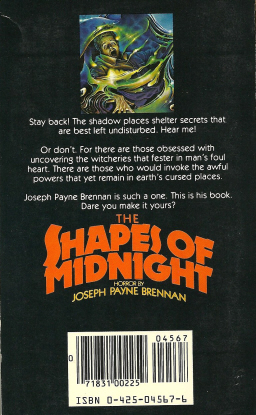 And here's the complete contents.
Table of Contents
Introduction by Stephen King
"Diary of a Werewolf" (Macabre, Winter 1960)
"The Corpse of Charlie Rull" (The Dark Returners, 1959)
"Canavan's Back Yard" (Nine Horrors and a Dream, 1958)
"The Pavilion" (The Dark Returners, 1959)
"House of Memory" (Alfred Hitchcock's Mystery Magazine, September 1967)
"The Willow Platform" (Whispers, 1973)
"Who Was He?" (Alfred Hitchcock's Mystery Magazine, September 1969)
"The Horror at Chilton Castle" (Scream at Midnight, 1963)
"The Impulse to Kill" (The Dark Returners, 1959)
"The House on Hazel Street" (Macabre, Summer 1961)
"Slime" (Weird Tales, March 1953)
The Shapes of Midnight was published in October 1980 by Berkley Book. It is 176 pages, priced at $2.25 in paperback. It is out of print, and there is no digital edition.
See all of our recent Vintage Treasures here.