Prince of Thorns Available for $1.99 at Amazon.com
Prince of Thorns Available for $1.99 at Amazon.com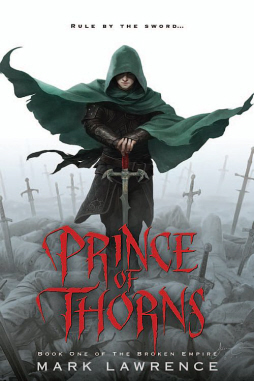 For today only, Amazon.com is offering the Kindle version of Prince of Thorns, the opening volume of Mark Lawrence's The Broken Empire trilogy, for just $1.99.
In a Black Gate blog post shortly before publication, Mark Lawrence wrote:
The book I've written, Prince of Thorns, has layers, rather like an onion (or an ogre). I hope it can be enjoyed as a violent swords and sorcery romp. Get your teeth into it though and there's more there – it's as much about our prince as it is about what he does. This is a damaged person and although the story is told in his words without a hint of excuse, there are lessons to be learned between the lines. It wasn't until tonight though, desperately scratching at the subject in the effort to come up with something to say in this blog post I was invited to supply, that I discovered another layer, deeper still…

In Prince of Thorns the main character has suffered a personal disaster. It's not the 'evil threatens the village' of classic fantasy. It's not injured pride or a looming darkness in the east. He's been screwed over, a tsunami has rolled through his life and left devastation. And the book is in large part his reaction to that. It's about where he takes his anger and where it takes him.

It's only through the lens of half a decade and more that I see I was writing out… not a version of my own experience, but a mapping of the emotions.
If you're the kind of reader who has to think long and hard before parting with $1.99, by all means check out the generous excerpt we presented here last October.
The sequel, King of Thorns, was released in August 2012, and the final volume, Emperor of Thorns, is scheduled for August 2013. We have several of Mark Lawrence's short stories in inventory, and the first, "Bulletproof," will appear as part of our Black Gate Online Fiction line early next year.
Prince of Thorns was published by Ace in August 2011. The 336-page hardcover edition is still in print, priced at $24.95. You can buy the Kindle version here.
Thanks to Awsnyde for the tip!