New Treasures: The Casebook of Sexton Blake, edited by David Stuart Davies
New Treasures: The Casebook of Sexton Blake, edited by David Stuart Davies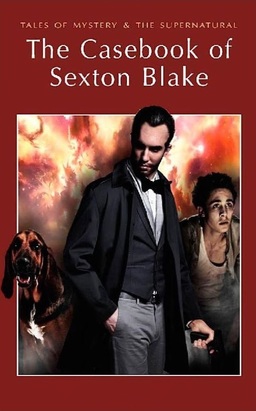 I continue to accumulate these Wordsworth Tales of Mystery & The Supernatural whenever I can, as I find them consistently entertaining and well worth the price.
When I wrote about Mark Valentine's anthology The Black Veil & Other Tales of Supernatural Sleuths, in the comments Paul R. McNamee remarked on an additional volume I wasn't familiar with:
I just picked up their Casebook of Sexton Blake this week… it is surprisingly thick – 545 pages. 7 classic Blake stories by different writers between 1907 – 1923. A succinct introduction goes over Blake's history – an evolution from Baker-Street-Residing-Pipe-Smoking-Holmes-ripoff to his own niche of catch-all pulp adventurer. I wanted to try these classic tales before delving into some James-Bond-mode stories from the early 1960s that a friend (Charles R. Rutledge) had sent me… When I ordered Blake Amazon was displaying the gray cover, but they sent me crimson – which has complete new artwork, I might add, not just a color scheme change.
I was intrigued enough to order a copy of The Casebook of Sexton Blake myself and it arrived last month. Paul is quite correct. There are seven pulp tales within, by six different authors. My copy had the crimson cover, with artwork by Nathan Clair, shown at right (click for bigger version), although there was a first edition paperback with more pulp-inspired artwork (see below).
It didn't immediately help me understand who this Sexton Blake fellow was though, or why the seven stories within were written by six different authors. That was curious, to say the least. The Wikipedia entry for Blake cleared that up, however.
Sexton Blake is a fictional detective who appeared in many British comic strips and novels throughout the 20th century. He was described by Professor Jeffrey Richards on the BBC in The Radio Detectives in 2003 as "the poor man's Sherlock Holmes." Sexton Blake adventures appeared in a wide variety of British and international publications (in many languages) from 1893 to 1978, running to over 4,000 stories by some 200 different authors. Blake was also the hero of numerous silent and sound films, radio serials and a 1960s ITV television series. Originally owned and published by Alfred Harmsworth, Blake's copyright transferred to the Harmsworth-owned Amalgamated Press and on to Fleetway Publications before residing with current owner IPC Media.
Wow… 4,000 stories by over 20 authors? Sounds like Sexton Blake was a much more traditional pulp hero than Sherlock Holmes, with his adventures shopped out to hundreds of authors over the decades to fill the pages of monthly (or even weekly) magazines and newspapers. Still, any character popular for over eight decades was definitely worth my attention.
Here's the book description, with teasers for each of the seven tales.
Welcome to the breathtaking adventures of Sexton Blake! For the greater part of the 20th century, the countless escapades of super sleuth Sexton Blake kept millions of readers on the edge of their seats. Together with his faithful sidekick, the youthful Tinker, and his intelligent bloodhound, Pedro, he stood firm against an onslaught of crime and villainy, defeating his enemies with his extraordinary powers of deduction, iron fists and unyielding determination. This thrilling collection presents seven exploits from his 'golden age'.

"The Slave Market" – In the dangerous depths of Africa, Blake races to the rescue of an old school friend!
"A Football Mystery" – Blake and Tinker join the England team to beat the cheating opposition!
"The Man From Scotland Yard" – Blake has his first encounter with the greatest super-villain he would ever meet!
"The Law of the Sea" – Blake goes down with the ship in his own version of the sinking of the Titanic!
"The Brotherhood of the Yellow Beetle" – Blake grapples with oriental cunning in the form of Prince Wu Ling!
"A Case of Arson" – A master crook is at work but Blake is on his trail!
"The Black Eagle" – A wronged man is out for vengeance. Can Blake stop him before it's too late?

Sexton Blake, consulting detective!
Included with the tales is a 7-page introduction by Mark Hodder.
We've covered ten volumes in the Wordsworth Tales of Mystery And The Supernatural series so far:
The Crimson Blind and Other Stories by H.D. Everett
Couching at the Door by D.K. Broster
The Casebook of Carnacki The Ghost Finder by William Hope Hodgson
The Beast with Five Fingers by W.F. Harvey
The Power of Darkness — Tales of Terror, by Edith Nesbit
Alice and Claude Askew's Aylmer Vance, The Ghost-Seer
The Black Veil & Other Tales of Supernatural Sleuths edited by Mark Valentine
Voodoo Tales: The Ghost Stories of Henry S. Whitehead
Sherlock Holmes: The Game's Afoot, edited by David Stuart Davies
The Casebook of Sexton Blake, edited by David Stuart Davies
The Casebook of Sexton Blake was edited by David Stuart Davies and published by in the UK by Wordsworth Editions on March 5, 2009. It is 545 pages, priced at  £2.99 in paperback  ($7.99 in the US). There is no digital edition.