Frederik Pohl, November 26, 1919 – September 2, 2013
Frederik Pohl, November 26, 1919 – September 2, 2013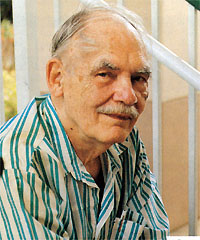 Science Fiction lost one of its brightest lights yesterday.
Frederik Pohl — award-winning writer, editor, agent, and fan — entered the hospital in Palatine, Illinois, in respiratory distress yesterday morning, and died that afternoon. He was 93 years old.
Pohl was one of the most important genre figures of the 20th Century. His first publication, at the age of 17, was the poem "Elegy to a Dead Satellite: Luna," in the October 1937 issue of Amazing Stories. He followed it with over 200 short stories and dozens of novels, including the back-to-back Nebula Award winners Man Plus (1976) and Gateway (1977).
Pohl was equally lauded as an editor, starting with two pulp magazines, Astonishing Stories and Super Science Stories, in 1939 (when he was still a teenager). In the late 1950s, he took the helm at Galaxy and IF magazines as H.L. Gold's health began to decline, and under his tenure IF won the Hugo for Best Professional Magazine in 1966, 1967, and 1968.
By the mid 70s, Pohl was editing novels at Bantam Books; his acquisitions were cover-labeled "A Frederik Pohl Selection," a rare honor. They included Samuel R. Delany's groundbreaking Dhalgren, Joanna Russ's The Female Man, John Brunner's Web of Everywhere, and many others.
Pohl was a fixture in the field; well-connected and respected, extremely hard-working, highly talented, and good at almost everything he did. I can't count how many times I've mentioned his accomplishments here on the blog; just in the last few weeks, I commented on his successful collaborations with Jack Williamson and C. M. Kornbluth. Rich Horton, who has been examining vintage SF digests for us, recently reviewed the July 1961 issue of IF, in which Pohl officially became editor.
For the past few weeks, I've been reviewing Lester Del Rey's Classics of Science Fiction paperback series. Frederick Pohl was the last member of that class still alive. I was looking forward to celebrating that fact when I got to his volume, The Best of Frederick Pohl (1975). Now, all I can do is regret that I didn't get to him sooner.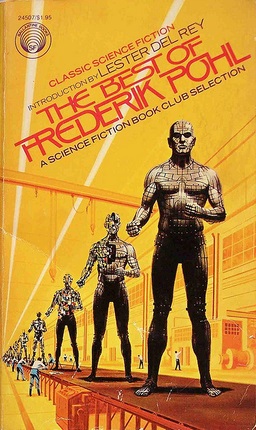 I was fortunate enough to meet Pohl many times, perhaps most memorably during the World Science Fiction convention in 1991. My friend Todd Ruthman and I, Canadian tourists both, exited the convention hall through a side door to find ourselves on a hot Chicago street. A man who'd suffered a minor accident was standing on a street corner, obviously waiting for a ride; as we passed, I recognized him as Frederick Pohl. I couldn't resist turning on the spot, introducing myself, and telling Mr. Pohl excitedly about how much I'd enjoyed his work.
I've thought about that encounter many times since. Pohl was obviously in some pain and discomfort, and doubtless that last thing he wanted was to entertain two young fans on a street corner. But that's exactly what he did, talking about the pulps and the early magazines, answering all of my eager questions with no hesitation. When his ride finally appeared, he lingered just long enough to let us know that he was in no hurry, and that he'd enjoyed our talk.
When I think about truly gracious professionals in this industry, I think of Frederik Pohl first.
Pohl won six Hugos and three Nebulas for his writing over the years, and his 1979 novel, Jem, won a U.S. National Book Award for science fiction (the only year the category existed). His autobiography, The Way the Future Was, is one of the most important non-fiction works covering the early SF field, and the 2010 anthology, Gateways: Original New Stories Inspired by Frederik Pohl, contains fiction by David Brin, Joe Haldeman, Larry Niven, Vernor Vinge, Gene Wolfe, Brian W. Aldiss, Neil Gaiman, Cory Doctorow, and non-fiction appreciations by Isaac Asimov, Gardner Dozois, Connie Willis, Robert J. Sawyer, Robert Silverberg, and many others.
Like his friend Jack Williamson before him, Pohl continued to write right up until his death. His final novel, All the Lives He Led, was published by Tor Books on April 12, 2011. But in the last few years, he reached a whole new audience with his frank and entertaining blog, "The Way the Future Blogs." In 2010, Pohl was awarded the final Hugo Award of his career — for Best Fan Writer — for his work on his blog.
The final entry on his blog — pointing out that Bexar County, Texas, where the 2013 Worldcon was held last weekend, is the U.S. county with the fifth highest number of executions from 1876–2012 — was dated September 2, 2013 at 9:00 am, the morning of the day he died.
It's odd to think I grew up enjoying the work of Frederik Pohl in Ottawa, Canada, and that as an adult I drive through the town where he lived, Palatine, Illinois, every day on my way to work. It's a strange world we live in.
Frederik Pohl was born on November 26, 1919, in New York City. His family settled in Brooklyn when he was around seven; he dropped out of Brooklyn Technical High School at the age of 17. He served in the US Army from April 1943 until November 1945, stationed with the 456th Bombardment Group in Italy. After the war, he worked as a copywriter and book editor for Popular Science. He moved to Palatine, Illinois, a suburb of Chicago, in 1984, where he died at the age of 93.