Alex Bledsoe on "How I Discovered Silver John"
Alex Bledsoe on "How I Discovered Silver John"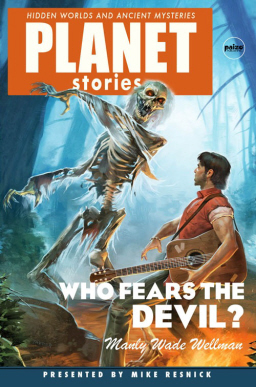 Just last week, we announced the winners of our Best One-Sentence Reviews of Manly Wade Wellman contest, and published twenty of the best entries. Not too surprisingly, many focused on Wellman's popular Silver John stories, tales of monsters and Appalachian magic.
Alex Bledsoe, author of The Hum and the Shiver and the forthcoming Wisp of a Thing, knows a thing or two about Appalachian magic himself. I was fortunate enough to hear Alex read from Wisp of a Thing at Capricon here in Chicago last month, and I'm looking forward to receiving my copy. So I was pleased (and a little surprised) to see Alex's article at Tor.com last week, explaining how he only recently discovered Wellman's Silver John tales — and came across his novels for the first time at Capricon, of all places:
When Tor released my first Tufa novel, The Hum and the Shiver, back in 2011, many people asked me if I'd been inspired by Manly Wade Wellman's tales of Silver John. Although I knew of them by reputation, I'd never actually read them until last year, when Planet Stories published Who Fears the Devil? The Complete Tales of Silver John.

The resemblance, as is so often the case in comparisons like this, strikes me as mostly cosmetic. Yes, Wellman's stories are set in a vague Appalachia, and yes, they involve magic and inhuman creatures. But they're far more Lovecraftian than Tufan, with their invocation of things from other realities bleeding into ours and poking out around the fringes to snag the unwary… I'm delighted that the stories are so different from my own stuff, because that means I can devour them with a clear conscience. These stories are cool.

Further, before Capricon in Chicago this year, I didn't even know there were full length Silver John novels. Rich Warren of Starfarer's Despatch, a used-book dealer, clued me in, and I picked up After Dark based on his recommendation. And lo and behold, it was a real, literal page-turner that kept me reading when I should've been doing other, more important things (like writing, or parenting).
Ah, Starfarer's Despatch — that explains it. Rich Warren and Arin Komins have had a hand in more than a few discoveries of my own. They sold me that paperback edition of Vampires I talked about last month, not to mention the only copy of Tales of Time and Space I've ever seen. There's a great photo of the two of them in action in Howard's Worldcon wrap-up from last year, too (and their website is here). True booksellers have magic of their own.