Vintage Treasures: Vampire, Edited by Peter Haining
Vintage Treasures: Vampire, Edited by Peter Haining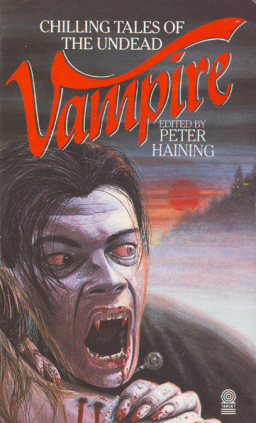 I'm a fan of modern horror and dark fantasy — especially writers like Laird Barron, Dan Simmons, and Stephen King.
But that doesn't mean I don't also enjoy classic horror, particularly when it comes in the form of creepy and fun short stories. So when I discovered this little gem at the Starfarer's Despatch booth — run by two of my favorite booksellers, Rich Warren and Arin Komins — at Capricon this weekend, I snatched it up immediately.
The text on the back reminded me of the monster movies I adored in my youth:
The Blood is the Life…

The distant howl of a wolf in the night… A faint but persistent tapping at your window-pane… An empty tomb… A solitary figure swathed in black, his face the colour of death but for his lips which are a deep scarlet …

Beware — for the Undead have risen from their graves. And they must feed …
Yeah, that brings me right back to 1975, when paradise was an issue of Tomb of Dracula and a ticket to the Saturday double feature of Frankenstein Conquers the World and Destroy All Monsters.
The contents look just as enticing — including stories by Bram Stoker, Richard Matheson, Edith Wharton, Robert E. Howard, Robert Bloch, and Ray Bradbury. Most of the stories read like 1960s-era Creature Features too, including Curt Siodmak's "Experiment With Evil," in which the intrepid Professor Windford responds to an urgent summons from Count Norlasky in the remote Austrian Alps. Long ago a curse was laid on the Count's ancestral home, and for most of his life he's battled demons, werewolves, and vampires in an attempt to reclaim it. But one opponent has vexed him more than any other, and now he's fallen victim to a soul-sucking thing.
Or take Robert Thurston Hopkins's "The Vampire Of Woolpit Grange," in which a naive young American businessman inherits a sixteenth century creepy estate — and an equally creepy neighbor. Odd how much the neighbor resembles the beautiful Beatrix Springett, whose portrait hangs in the gallery. They still tell stories of the evil Beatrix, who poisoned her first husband and whose second was torn apart by wild hounds three centuries ago. Gruesome. Odder still how our young hero finds himself inexplicably drawn to her portrait on his first night in his new home, and when he gives in to desire and kisses it… well. I don't think it ruins the surprise to tell you that Beatrix doesn't stay in her grave for long, or that the most unsettling scene does not involve making out with an oil painting.
In Edith Wharton's "Bewitched," Prudence Rutledge is fed up with her husband's obsession with a younger woman, and takes action to end the affair. When she involves the people in town, including the girl's father, it becomes clear that things are a little more complicated than they appeared. For one thing, the young woman in question wasted away and died several months ago from a strange illness…
Here's the complete Table of Contents:
Introduction by Peter Haining
"Varney's Victim," James Malcolm Rymer
"Dracula's Guest," Bram Stoker
"No Such Thing As A Vampire," Richard Matheson
"The Vampire Of Woolpit Grange," Robert Thurston Hopkins
"The Graveyard Duchess," John Flanders (Jean Ray)
"Experiment With Evil," Curt Siodmak
"The Curse Of The Vourdalak", Alexey Tolstoy
"For The Blood Is The Life," Francis Marion Crawford
"The Tinkle Of The Camel's Bell," Frank Owen
"The Last Of The Vampires," Phil Robinson
"Bewitched," Edith Wharton
"The Horror From The Mound," Robert E. Howard
"Hungarian Rhapsody," Robert Bloch
"The Homecoming," Ray Bradbury
"The Traitor," James S. Hart
I haven't made my way through them all yet, but it's surprising just how much fun the stories are. If you loved classic horror films of the 50s and 60s, when vampires wore cloaks and spoke with thick European accents, this book is for you.
Peter Haining produced many of the best anthologies on my shelves, including the Weird Tales facsimile anthology (1976), as well as The Fantastic Pulps (1976), Supernatural Sleuths (1986), and The Mammoth Book of Haunted House Stories (2007). He's well represented in my non-fiction shelves too, with Terror!: A History of Horror Illustrations from the Pulp Magazines (1977), Doctor Who: 25 Glorious Years (1998), and The Classic Era of American Pulp Magazines (2001).
Vampire was published in May 1985 by UK publisher Target Books. It is 160 pages in paperback.