The Daylight War by Peter V. Brett on Sale Tomorrow
The Daylight War by Peter V. Brett on Sale Tomorrow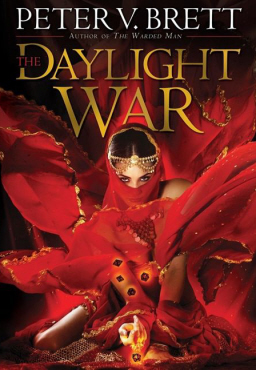 I heard a surprising amount of advance praise for Peter V. Brett's first novel, The Warded Man. Contributors to Black Gate — and trust me, there's no more discerning or harder-working readers out there — were abuzz about it long before it arrived in the US in 2009.
His second novel, The Desert Spear (March 2010), became an international bestseller — a feat George R.R. Martin accomplished only with his seventh. Anticipation for Peter's third novel has been extremely high, and it finally arrives in bookstores tomorrow.
On the night of the new moon, the demons rise in force, seeking the deaths of two men, both of whom have the potential to become the fabled Deliverer, the man prophesied to reunite the scattered remnants of humanity in a final push to destroy the demon corelings once and for all.

Arlen Bales was once an ordinary man, but now he has become something more — the Warded Man, tattooed with eldritch wards so powerful they make him a match for any demon… Ahmann Jardir has forged the warlike desert tribes of Krasia into a demon-killing army and proclaimed himself Shar'Dama Ka, the Deliverer.

Once Arlen and Jardir were as close as brothers. Now they are the bitterest of rivals. As humanity's enemies rise, the only two men capable of defeating them are divided against each other by the most deadly demons of all — those lurking in the human heart.
I brought home an early copy on Saturday, and it's already been read once in the last 24 hours. When you have a family of fantasy fans, the most popular titles tend to vanish. I need to get the details down while I can still lay hands on it.
The Daylight War, Book Three of The Demon Cycle, will be released by Del Rey on February 12, 2013. It is 641 pages in hardcover, priced at $28 ($12.99 for the digital edition). Two more novels remain in the five-book series: The Skull Throne and The Core.