Goth Chick News: The Best of the HHA
Goth Chick News: The Best of the HHA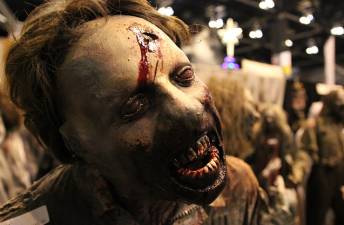 As promised last week, my road trip to the Halloween and Haunted Attractions Show with Black Gate photog Chris Z yielded up a virtual bloody burlap bag of gooey tidbits to share with you.  I mean what could be finer than driving 5 hours to see the latest developments in apparatus for scaring the snot out of you – in the middle of a winter storm?
But like tweeners to a Twilight convention, we donned our flannel shirts and would not be deterred.
However, as we traveled south towards St. Louis, we were only out of Chicago a mere two hours before we ceased to see snow on the ground — and another two before the sky turned blue and the temperature gauge on the Black Gate company car started reading a balmy 45 degrees.
Which proves two things.
Life exists outside of Chicago primarily due to favorable atmospheric conditions, and 1973 Dodge Darts do indeed have temperature gauges.
We arrived at the America's Convention Center to find it packed wall-to-wall with over 500 exhibitors showing off the cutting edge technology and special effects techniques which will ultimately be showcased in movies, videos and professional haunted attractions in 2013.  Which made narrowing down the field for inclusion here an arduous task, but one which Chris Z and I happily tackled during the extra-long trip home.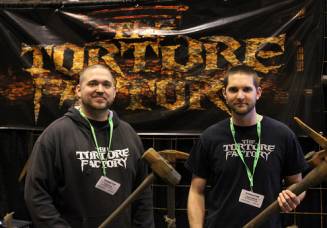 What can I say?
I drank a lot of coffee and we made a lot of stops.
So it is with great relief, preceded by much discussion, that I present to you the Best of the HHA.
AtmosFearFX Digital Decorations – This amazingly simple yet horrifyingly effective way to decorate with projected images just goes to show how innovative the haunt industry is becoming.
AtmosFearFX, based in Seattle has pioneered a new way to deck your walls for Halloween (and other holidays if you're so inclined). Their "digital decorations" transform your space into an atmospheric experience using a projector, TV or monitor coupled with a DVD player.
The effect is awesome when shown on a simple white sheet as we saw with the zombie video they were demo'ing. But check out the effect when a flat screen TV is mounted vertically in a picture frame.
AtmosFearFX sells their discs for around $30 at their web site.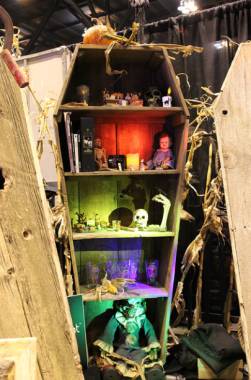 Asylum Coffin Company – Do you know what a "toe-pincher" is?
No, it's not a pervy frat boy at a sorority social; it's actually the term used to describe the old west style coffins that were wide at the shoulder and narrowed at the feet.  It also describes the plethora of products available from the local Chicago artisans at Asylum Coffin.
Available for sale as your very own, or to rent for special occasions, these coffins are made of solid, aged wood with removable lids in the finest of old world craftsmanship.
In addition to the "realistic" versions, Asylum also creates coffin display cases, coffin book shelves and "hearth" coffins: smaller versions which make a great decoration for your fireplace, front porch, or as a Halloween candy receptacle.
Asylum offers personal delivery within the northern Illinois area and they also work with area trucking companies to find you the most cost-effective way to ship.
Asylum never wants shipping costs to prohibit you from getting the coffin you want – which is a phrase you will only read here at Goth Chick News.
Rust Dust from The Torture Factory – In the quest for off-season coin Ryan Wade and John Lawson of the legendary Torture Factory haunted attraction outside Nashville, TN have come up with an ingenious product called Rust Dust. For a mere $35, you can purchase a kit containing "dust" and an activator solution that can make any item look like it's a realistic relic from the Titanic.
I mean seriously, a $10 flea market find could easily become a serious heirloom left to you by your great, great Grandmother Rose who caught the last lifeboat.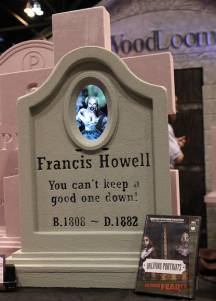 Order directly by calling 855-367-8679 or emailing torturefactory@gmail.com.
WoodLoom PropShop (Props for the Occasionally Dead) – Winners of this year's coveted 5-Bat Award are the geniuses at WoodLoom.
Makers of custom-carved, rigid-foam tombstones that are thick and amazingly realistic, WoolLoom will take the name, epitaph, and dates you want and custom carve them in to your own personalized foam tombstones.
Looking for that special something for your friend who just broke up a relationship?  Or that obnoxious boss who just turned 50?  Look no further.  WoodLoom can carve out the perfect gift starting at under $30.
But even cooler than the standard product is the headstone with an opening to fit your tablet or smartphone. Use your device to run a picture montage and create the perfect Victorian-era tribute that looks so real it will make you weep.
The possibilities are just endless…
Water-Melon Self Adhesive Appliance Kits from Michael Davy Theatrical Cosmetics – In a nearly neck-and-neck race with for the 5-Bat Award comes one of the most incredible products at the show.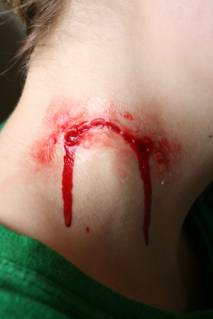 Normally, creating a really good make-up effect meant you needed to be really good with make-up; otherwise your realistic latex "throat slash" would drop off into your drink at some point during the party.
Now, for around $10 you can create slashes, bites, gouges and pox that look straight off the horror movie back lot.  The small "appliances" stick to your skin without adhesive and the edges get thinned and blended perfectly into your skin with a Q-Tip and little rubbing alcohol.
Dab in a little fake blood and then spritz the whole thing with a little more alcohol and voila! You are ready to skive off a day of work due to your infectious "skin condition".
All the kits including the incredible demonstration one we got to watch are available at chemist Michael Davy's web site and in stores this fall.
Brian Demski Creations – I've told you about Brian before but his latest work has gotten even better (if that's possible).
Want something sitting on you shelf or coffee table that makes your guests ask "WTF?" Well, Brian is your guy.
With over 15 years in Hollywood creature special effects, custom prop fabrication, and artwork for feature films, television, music videos and haunted attractions, Brian has worked with Oscar Award winning make-up effects artist Joel Harlow, as well as special effects legends Wayne Toth and Tim "Gore" Larsen.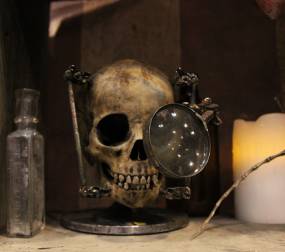 Lucky for the rest of us that Brian's bazaar, steam-punk-inspired pieces are for sale at his web site.
The Music of Midnight Syndicate – Of course it wouldn't be the HHA without a nod to our favorite goth boy band Midnight Syndicate.
If they didn't already have me from the first "boo!" they certainly would with their latest creation, Monsters of Legend – their tribute to the original black and white movie monsters.
It's where it started for all of us isn't it?
The compilation, being released in July, is a tribute to the classic films of Universal Studios and Hammer Films that shaped horror cinema.  Join the boys on Facebook or Twitter as each week, the band shares its thoughts on the films that inspired the album and the other bands that have influenced Midnight Syndicate over the years.
Ed Douglas has been creating music with Midnight Syndicate for the past sixteen years and twelve years ago was the subject of one of my first real interviews for Black Gate.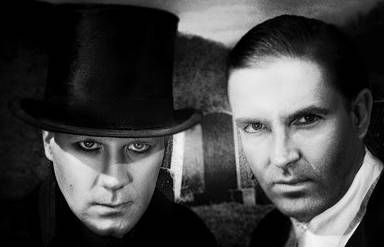 What can I say?  Goth Chick crushes run deep…
Finally, our little road trip was not without its celebrity encounters.  We had a very nice chat with Dee Wallace (E.T., Cujo and Frighteners) who told us all about her new thriller, Unhallowed, due out later this year.  And yes, we did get an enthusiastic how-dee-do from Goth Chick fan Butch Patrick (aka "Eddie Munster").
What is not to love about this job?
Most importantly, we ran into Chuck Grendy, co-owner of our new favorite Chicago haunted attraction Fear City, who was at the show collecting ideas for this upcoming Halloween event.  Chuck whispered sweet nothings in my ear that had something to do with zombies and an idea he and co-owner Jim Lichon have to make money in the off-season.
I can't tell you about it yet, but I'm shivering with anticipation…
Have a question or comment?  Post it here or drop a line to sue@blackgate.com.  And a special thanks to long-suffering BG photographer, Chris Z. That new lens of yours rocks utterly.