New Treasures: New Cthulhu: The Recent Weird edited by Paula Guran
New Treasures: New Cthulhu: The Recent Weird edited by Paula Guran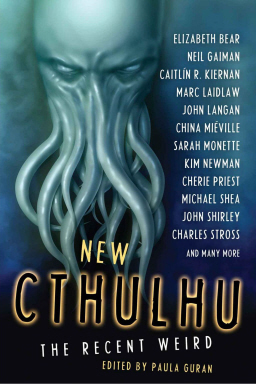 My birthday was last month, and one of the gifts my children bought for me (my children! That's sweet. And a little disturbing) was Paula Guran's 2011 anthology New Cthulhu: The Recent Weird. Yes, I do realize the book is very nearly three years old and a bit long in the tooth to be a "New Treasure," but I'm still so touched that my kids got me a Cthulhu anthology that I'm going to overlook it.
Anyway, it's a fine addition to any Cthulhu library. It reprints 27 Cthulhu Mythos tales from the 21st Century, including contributions from Neil Gaiman, Kim Neuman, Charles Stross, Marc Laidlaw, Laird Barron, Paul McAuley, William Browning Spencer, Holly Phillips — and even Michael Shea's chilling novelette "Tsathoggua," published online here at Black Gate. Here's the book description.
For more than 80 years H.P. Lovecraft has inspired writers of supernatural fiction, artists, musicians, filmmakers, and gaming. His themes of cosmic indifference, the utter insignificance of humankind, minds invaded by the alien, and the horrors of history — written with a pervasive atmosphere of unexplainable dread — remain not only viable motifs, but are more relevant than ever as we explore the mysteries of a universe in which our planet is infinitesimal and climatic change is overwhelming it.

In the first decade of the twenty-first century the best supernatural writers no longer imitate Lovecraft, but they are profoundly influenced by the genre and the mythos he created. New Cthulhu: The Recent Weird presents some of the best of this new Lovecraftian fiction — bizarre, subtle, atmospheric, metaphysical, psychological, filled with strange creatures and stranger characters – eldritch, unsettling, evocative, and darkly appealing.
This is only the latest Paula Guran anthology to catch my eye, following The Year's Best Dark Fantasy & Horror 2013, Season of Wonder, and the marvelous Weird Detectives. Some of her recent anthologies we've covered include:
Blood Sisters
The Year's Best Science Fiction & Fantasy Novellas 2015
The Year's Best Dark Fantasy & Horror 2015
The Year's Best Dark Fantasy & Horror 2014
The Year's Best Dark Fantasy & Horror 2013
New Cthulhu 2
New Cthulhu: The Recent Weird
Weird Detectives
Season of Wonder
New Cthulhu: The Recent Weird was edited by Paula Guran and published by Prime Books in November 2011. It is 528 pages, priced at $15.95 in paperback and $6.99 for the digital edition. The cover is by Rafael Tavares.