Calvin and Hobbes Creator Bill Watterson Draws Pearls Before Swine
Calvin and Hobbes Creator Bill Watterson Draws Pearls Before Swine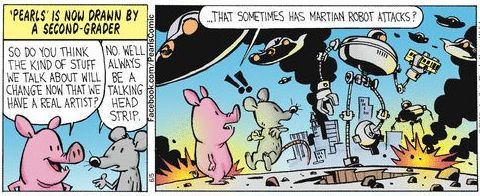 Bill Watterson, the legendary creator of Calvin and Hobbes, is one of the most famous cartoonists in the world. He's also one of the most private. After he retired from comics in 1995, he vanished from public life. He made Time Magazine's list of Top 10 Most Reclusive Celebrities (at #7) a few years ago (and Time accompanied the piece with one of the only known photographs of him.) For years, fans have been wondering what his next project would be.
It turns out that it's already been published — and, typical for Watterson, in a surprisingly understated fashion. Stephan Pastis, creator of the bestselling Pearls Before Swine comic, revealed on his blog this morning that Watterson has been co-writing and co-drawing the strip with him for much of the past week:
I emailed him the strip and thanked him for all his great work and the influence he'd had on me. And never expected to get a reply. And what do you know, he wrote back. Let me tell you. Just getting an email from Bill Watterson is one of the most mind-blowing, surreal experiences I have ever had. Bill Watterson really exists? And he sends email? And he's communicating with me?

But he was. And he had a great sense of humor about the strip I had done, and was very funny, and oh yeah… He had a comic strip idea he wanted to run by me…

What followed was a series of back-and-forth emails where we discussed what the strips would be about, and how we would do them. He was confident. I was frightened. Frightened because it's one thing to write a strip read by millions of people. But it's another thing to propose an idea to Bill Watterson.
You can see the entire sequence drawn by Watterson here, and this morning's article by Michael Cavna's  at The Washington Post that broke the story here.