The Weapons of Fantasy
The Weapons of Fantasy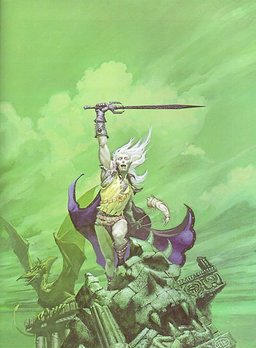 I love weapons. No, not guns and rockets (although they can be cool, too). I prefer the weapons of ages past. Swords, axes, spears, arrows, and maces. Just like Napoleon Dynamite, I remember drawing them in my notebooks when I was in school.
When I was younger, the weapons were part of what drew me to fantasy. Science fiction has its laser guns and starships. Horror has axe murderers and vampires. But fantasy takes me back to earlier epochs in human history when people (and nations) settled their differences with bronze and iron.
Fantasy also adds an element of the mystical to these trappings, and one of my favorite literary devices are weapons so famous or powerful they have their own names. There's just something… well, magical… about these weapons. Just saying their names evokes a world of pageantry and adventure.
I have some that are my favorites, which I'd like to share with you today.
Stormbringer/Mournblade
If you've been reading my blogs here for a while, you already know how much I love the Elric Saga by Michael Moorcock. So it should be no surprise that this fell blade ranks among my top fantasy weapons of all-time.
A huge, black, rune-covered vampiric sword that sucks the souls from those it kills and transfers a portion of that energy to its wielder, it is the perfect (albeit evil) companion for our tragic hero Elric. Sure, in the end it devoured all life in the universe, but hey, you can't blame a demonic sword for following its heart.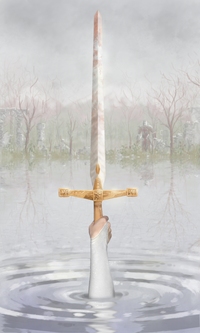 Of course, no conversation about Stormbringer would be complete without mentioning its twin, Mournblade, which had all the same powers and was wielded by Elric's ambitious cousin, Yyrkoon. Ah, their battles were legendary.
That reminds me. It's time to go back and re-read that saga again.
Excalibur
The sword of King Arthur, given to him by the Lady of the Lake, not to be confused with the Sword in the Stone.
This sword's powers are a little vague. It was said to blind Arthur's enemies in battle, and its scabbard could supposedly prevent the bearer's wounds from bleeding. Upon the good king's death, he commanded the sword thrown back into the lake, to return to the lady. All in all, I love the name and the majesty imbued in this weapon.
Sting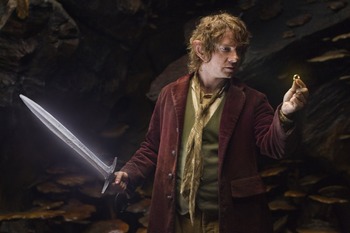 Ah, Bilbo's "sword," which he later passed on to Frodo. Tolkien's The Lord of the Rings has many weapons, several of them with their own names and legends, but I like Sting the best.
Perhaps not as glamorous as Glamdring or Narsil, but it's handy in a pinch. The perfect traveling weapon for a hobbit.
It's another reminder from this fabulous epic that not all great things come in large packages.
Vorpal
One, two! One, two! And through and through
The vorpal blade went snicker-snack!
He left it dead, and with its head
He went galumphing back.
This strange sword is mentioned in the poem "Jabberwocky" by Lewis Carroll, and later as a deadly weapon of decapitation in the Dungeons & Dragons roleplaying game. Although its origins may be nonsense, it retains a firm place in the pantheon of fantasy weapons, especially among us old-school gamers and lovers of weird poetry.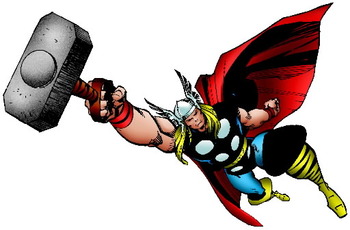 Dragnipur
This huge, ink-black sword from Steven Erikson's Malazan saga is wielded by the uber-impressive and taciturn hero, Anomander Rake. Similar in some regards to Elric's Stormbringer, this sword sends the souls of those it kills into an alternate dimension where they are chained to an immense cart which they must pull for an eternity. Like its owner, Dragnipur is both awesome and terrifying.
Mjolnir
Finally, something other than a sword! Thor's mighty hammer is a weapon to inspire awe and fear in everyone who looks upon it. It hits like a fleet of Mack trucks and never misses when Thor throws it (with the added feature of returning to his hand).
According to legend, it was created with a flawed handle, and so could only be wielded with one hand, but Thor never seemed to mind as he bashed through hordes of frost giants. Mjolnir remains today as a symbol of the Germanic neopagan faith.
Callandor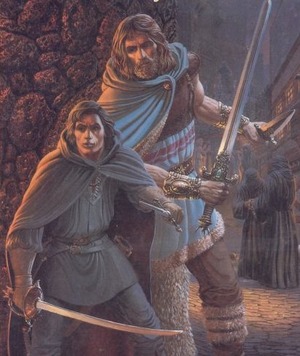 From Robert Jordan and Brandon Sanderson's Wheel of Time saga, this sword is made entirely from crystal. It is a very powerful sa'angreal that increases the prowess of a male magician.
It was located in a fortress known as the Stone of Tear, and its recovery (similar to Arthur's Sword in the Stone) was one of the signs that Rand al'Thor was indeed the true Dragon Reborn. Although it confers great power, the sword is also flawed so that its use can have unintended (and often disastrous) consequences.
Graywand and Scapel
These are the swords of Fafhrd and the Gray Mouser from Fritz Leiber's sword & sorcery classic saga.
They don't seem to have any magical powers, but then again they don't need to when wielded by the world's most dangerous swordsmen. I'm including them because of the cool names and to honor the legendary heroes who wielded them.
Nightbringer
From The Dragonlance Chronicles by Margaret Weis and Tracy Hickman, this evil mace was wielded by the Dragon Highlord Verminaard (what a great name, eh?). With an oak handle and a head of black steel, this dread weapon had the power to strike its enemies blind. With it, the Highlord almost defeated the entire cast of heroes single-handedly, until Goldmoon's touch robbed him of his terrible powers.
That's my short list of beloved fantasy weapons. But I know I missed some good ones, so let's hear them. What are your favorites?
---
Jon Sprunk is the author of the Shadow Saga (Shadow's Son, Shadow's Lure, and Shadow's Master) and a mentor at the Seton Hill University fiction writing program. His next epic fantasy series begins in March 2014 with Blood and Iron.