Future Treasures: Rogues edited by George R.R. Martin and Gardner Dozois
Future Treasures: Rogues edited by George R.R. Martin and Gardner Dozois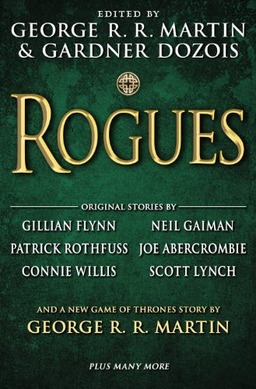 George R.R. Martin and Gardner Dozois have edited a number of major anthologies together over the last few years, including the massive heroic fantasy volume Warriors (2010), the star-crossed love story collection Songs of Love and Death (2010), urban fantasy-focused Down These Strange Streets (2011), Jack Vance tribute Songs of the Dying Earth (2010), the 800-page Dangerous Women (2013), and (my personal favorite) Old Mars. But now they've assembled what may be the most intriguing of the lot, a collection of 21 original stories (including a brand new A Game of Thrones tale by George R.R. Martin) showcasing thieves, villains, and ambiguous heroes of all sorts.
If you're a fan of fiction that is more than just black and white, this latest story collection from #1 New York Times bestselling author George R. R. Martin and award-winning editor Gardner Dozois is filled with subtle shades of gray. Twenty-one all-original stories, by an all-star list of contributors, will delight and astonish you in equal measure with their cunning twists and dazzling reversals. And George R. R. Martin himself offers a brand-new A Game of Thrones tale chronicling one of the biggest rogues in the entire history of Ice and Fire.

Follow along with the likes of Gillian Flynn, Joe Abercrombie, Neil Gaiman, Patrick Rothfuss, Scott Lynch, Cherie Priest, Garth Nix, and Connie Willis, as well as other masters of literary sleight-of-hand, in this rogues gallery of stories that will plunder your heart — and yet leave you all the richer for it.

Featuring all-new stories by Joe Abercrombie, Daniel Abraham, David W. Ball, Paul Cornell, Bradley Denton, Phyllis Eisenstein, Gillian Flynn, Neil Gaiman, Matthew Hughes, Joe R. Lansdale, Scott Lynch, Garth Nix, Cherie Priest, Patrick Rothfuss, Steven Saylor, Michael Swanwick, Lisa Tuttle, Carrie Vaughn, Walter Jon Williams, and Connie Willis.
Rogues includes an introduction by George R.R. Martin and will be published by Bantam Books on June 17, 2014. It is a massive 832 pages, priced at $30 in hardcover and $14.99 for the digital edition. I'm underwhelmed by the cover, but I suppose it fits the theme of the earlier Warriors and Dangerous Women volumes.