New Treasures: Songs of the Dying Earth
New Treasures: Songs of the Dying Earth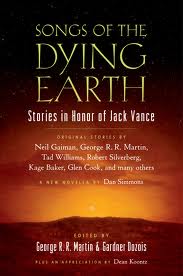 We get a lot of review copies here at the rooftop headquarters of Black Gate magazine, and it's always a treat when the mail truck arrives. Getting free books never gets old, and we usually drop everything to tear open packages and pass around the most intriguing titles.
What is unusual is for a single book to bring all toil to a complete standstill for half an hour  (except for the tireless Howard Andrew Jones, who's been missing in the restricted section of our pulp library for the last 48 hours). That's exactly what happened when Songs of the Dying Earth (SotDE), edited by George R.R. Martin and Gardner Dozois, arrived today.
SotDE is a tribute collection; its subtitle is Stories in Honor of Jack Vance, and it contains nearly 700 pages of original fiction set in Vance's Dying Earth — one of the great settings in all of fantasy, and home to Turjan the wizard, Rhialto the Marvellous, Cugel the Clever, and other fabulous characters. The Dying Earth is a far-future Terra, where the sun is on the verge of extinction, magic is potent and terrible, monsters roam the land, and the ruins of countless civilizations rest uneasily beneath layers of thin dust and vegetation.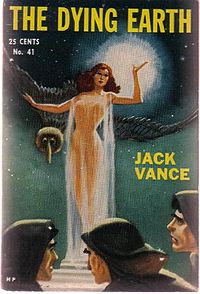 The table of contents is one of the most impressive I've ever seen — it read like a Who's Who of the most influential fantasy authors of the decade, including Robert Silverberg, George R.R. Martin, Walter Jon Williams, Jeff VanderMeer, Tad Williams, Glen Cook, Tanith Lee, Howard Waldrop, Elizabeth Hand, Lucius Shepard, Neil Gaiman, Phyllis Eisenstein, Liz Williams, Matthew Hughes, Terry Dowling, Mike Resnick, Paula Volsky, Kage Baker, John C. Wright, and others. It also includes a big new novella from Dan Simmons, an appreciation by Dean Koontz, and a preface by Jack Vance himself.
SotDE was first published in a limited edition by Subterranean Press last July; since then the book — and many of the stories — have received considerable attention. Jeff VanderMeer's H.P. Lovecraft-inspired tale "The Final Quest of the Wizard Sarnod" has been turned into a novel, and SotDE was nominated for Best Anthology in the 2010 Locus Awards. Neil Gaiman's story "An Invocation of Incuriosity" took home the Best Short Story prize at the same Awards.
Songs of the Dying Earth: Stories in Honor of Jack Vance goes on sale Dec. 7th. It is published by Tor books, in hardcover for $27.99, and gets our highest recommendation.