New Treasures: Burnt Black Suns by Simon Strantzas
New Treasures: Burnt Black Suns by Simon Strantzas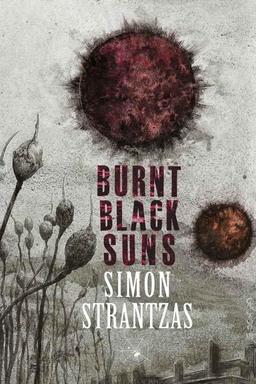 Another interesting thing about exploring the Dealer's Room at the World Fantasy Convention was meeting all these marvelous small press publishers, and discovering just how many delightful books they've produced. Hippocampus Press, whom I'm not really familiar with, had a table packed high with books by H.P. Lovecraft, Clark Ashton Smith, S. T. Joshi, Wade German, Algernon Blackwood, William F. Nolan, Donald Wandrei, and Thomas Ligotti, as well as several copies of their journals, Dead Reckonings, Spectral Realms, and The Lovecraft Annual.
I had to try at least one. I was sorely tempted by John Langan's collection The Wide, Carnivorous Sky and Other Monstrous Geographies and Clint Smith's Ghouljaw and Other Stories. But the one I eventually settled on was Simon Strantzas's most recent collection, Burnt Black Suns, mostly because I was drawn to the cover and the story descriptions on the back. Adam Nevill's quote on the back cover ("In Burnt Black Suns Strantzas casts far into time and space to find the alien, and what comes back wriggling inside his net is ghastly") didn't hurt, either. The first story, "On Ice," described as "a grim novella of arctic horror," will be the story I read this weekend.
In this fourth collection of stories, Simon Strantzas establishes himself as one of the most dynamic figures in contemporary weird fiction. The nine stories in this volume exhibit Strantzas's wide range in theme and subject matter, from the Lovecraftian "Thistle's Find" to the Robert W. Chambers homage "Beyond the Banks of the River Seine." But Strantzas's imagination, while drawing upon the best weird fiction of the past, ventures into new territory in such works as "On Ice," a grim novella of arctic horror; "One Last Bloom," a grisly account of a scientific experiment gone hideously awry; and the title story, an emotionally wrenching account of terror and loss in the baked Mexican desert. With this volume, Strantzas lays claim to be discussed in the company of Caitlín R. Kiernan and Laird Barron as one of the premier weird fictionists of our time.
Burnt Black Suns was published by Hippocampus Press on May 1, 2014. It is 310 pages, priced at $20 in trade paperback and $6 for the digital edition. The Foreword is by Laird Barron. The cover art is by Santiago Caruso. Burnt Black Suns is available for half price on the Hippocampus Press website this month — check out their November specials here.