Vintage Treasures: The Worlds of A.E. Van Vogt
Vintage Treasures: The Worlds of A.E. Van Vogt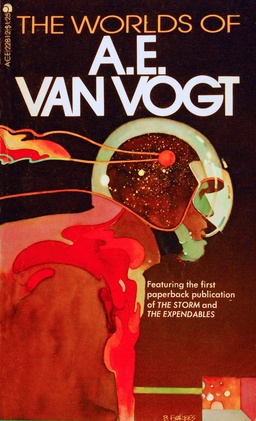 We haven't discussed A.E. Van van Vogt at Black Gate very much, and that's probably a significant oversight.
True, he's primarily thought of as a science fiction writer (when he's thought of at all these days.) But however you categorize him, van Vogt was one of the most important writers of the pulp era. I looked at one of his most famous novels, a fix-up of his early pulp stories from Astounding Science Fiction, The Voyage of the Space Beagle, back in September, but that's really the first time we discussed van Vogt at any length.
Well, that leaves us a lot of ground to cover, so we better get started.
Van Vogt's longer works include some of the most famous early novels in the SF canon, including Slan (1946), The World of Null-A (1948), and The Weapon Shops of Isher (1951). If you're interested in sampling his shorter work, there are a lot of collections to choose from — including Transfinite: The Essential A. E. Van Vogt (2003), the deluxe, 576-page hardcover collection of his best work from NESFA Press (still in print, you lucky dog.) If you're looking for something a little more economical, I highly recommend Transgalactic (2006), a handsome trade collection containing eleven short stories and a short novel, The Wizard of Linn, still in print from Baen.
Of course, you know how I feel. If you want to experience Van Vogt in the pure state, the way his original fans did, you should collect pulps, like any decent person. Failing that, I recommend tracking down a few of his most important paperbacks. Besides, that's the truly economical approach.
I suggest starting with The Worlds of A.E. Van Vogt, a generous sampling of his short fiction spanning 1941 – 1971. It was originally published in 1974 and is still easy to find and very inexpensive. Twelve of the stories within (plus Forrest J. Ackerman's one-page introduction) appeared in a smaller paperback, The Far-Out Worlds of A. E. van Vogt, in 1968; but this edition includes all of those stories plus three long novelettes, adding over 100 pages. It's the one you want.
There's a fine mix of fantasy and science fiction within, as well a nice sample of both his early pulp work and his later fiction.
Here's the blurb from the back of the book:
The celebrated author of The Weapon Shops of Isher, Slan and The Universe Makers, brings to this collection the same unforgettable concepts and the same surprises that have put him among the top names in science-fiction.

This representative collection of 15 stories portrays Van Vogt in all moods, in every stage of his development from 1937 to 1971. Here are interplanetary adventures such as "The First Martian" and "Not the First." Here are glittering flights of fantasy as "Process" and "Ship of Darkness." Here are tales of psychic powers as "The Purpose" and "The Ultra Man."

Here, in one volume, are the thought-provoking Worlds of A.E. Van Vogt.
And here's the complete table of contents.
About the Author by Forrest J. Ackerman
"The Replicators" (If, February 1965)
"The First Martian" (Marvel Science Fiction, August 1951)
"The Purpose" (Astounding Science Fiction, May 1945)
"The Earth Killers" (Super Science Stories, April 1949)
"The Cataaaaa" (Fantasy Book, Vol. 1, No. 1, July 1947)
"Automaton" (Other Worlds Science Stories, September 1950)
"Itself!" (Gamma 1, July 1963)
"Process" (The Magazine of Fantasy and Science Fiction, December 1950)
"Not the First" (Astounding Science-Fiction, April 1941)
"Fulfillment" (New Tales of Space and Time, Nov 1951)
"Ship of Darkness" (Fantasy Book, Vol 1, No. 2, Feb 1948)
"The Ultra Man" (Worlds of Tomorrow, May 1966)
"The Storm" (Astounding Science-Fiction, October 1943)
"The Expendables" (If, September 1963)
"The Reflected Men" (Galaxy Magazine, February 1971)
Interestingly my copy, which I bought as part of a large collection, came with a copy of Van Vogt's obituary tucked into the first page, clipped from a newspaper.
The Worlds of A.E. Van Vogt was published in January 1974 by Ace Books. It is 330 pages, originally priced at $1.25. The cover is by Bart Forbes. It has never been reprinted and there is no digital edition. Used copies start at 1 penny at Amazon.com.
See all of our recent Vintage Treasures here.