New Treasures: The Year's Best Science Fiction & Fantasy 2015, edited by Rich Horton
New Treasures: The Year's Best Science Fiction & Fantasy 2015, edited by Rich Horton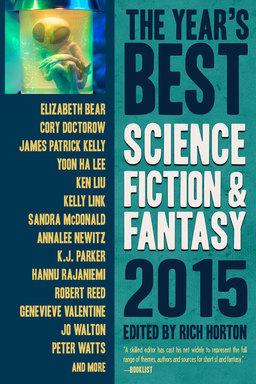 In his introduction to this year's volume, Rich provides a penetrating breakdown of the current state of our genre's magazines:
Trevor Quacchri… [is] introducing some intriguing new writers, while not abandoning Analog's core identity. Last year he published Timons Esais' "Sadness," clearly one of the very best stories of the year. Even more recently, F&SF has changed editors… the editing reins have been handed to C.C. Finlay, who "auditioned" with a strong guest issue in July-August 2014, from which I've chosen Alaya Dawn Johnson's "A Guide to the Fruits of Hawai'i" for this book. Asimov's stays the course with Sheila Williams, and 2014 was a very good year for the magazine….

I choose four stories each from two other top online sources, Clarkesworld (three-time Hugo Winner for Best Semiprozine) and Lightspeed… Clarkesworld publishes almost soley science fiction, and Lightspeed publishes an even mixture of science fiction and fantasy, so it can be argued that another online 'zine, Beneath Ceaseless Skies, is the top fantasy magazine online, and the two outstanding stories I chose from it should support that argument. And it would be folly to forget Tor.com…

The New Yorker regularly features science fiction and fantasy (including a pretty decent story by Tom Hanks this year), and New Yorker stories have appeared in these anthologies. Tin House in particular is very hospitable to fantastika, and this year I saw some outstanding work at Granta.
Since I was on stage to present the Nebula Award for Best Novelette to Alaya Dawn Johnson's "A Guide to the Fruits of Hawai'i," I can personally attest that Rich knows how to pick 'em. The Year's Best Science Fiction & Fantasy 2015 was published by Prime Books on June 11, 2015. It is 576 pages, priced at $19.99 in trade paperback and $6.99 for the digital edition. See the complete Table of Contents here.