Beneath Ceaseless Skies 176 Now Available
Beneath Ceaseless Skies 176 Now Available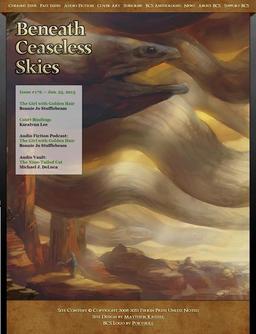 Beneath Ceaseless Skies 176 has two new short stories by Bonnie Jo Stufflebeam and Karalynn Lee, a podcast, and a podcast reprint by Michael J. DeLuca:
The Girl with Golden Hair by Bonnie Jo Stufflebeam
"Where are all the people?" she asked. I neighed, unsure. Why would they hide in their caves when two strangers appeared?

Court Bindings by Karalynn Lee
The sparrow had too diminutive a mind to realize it could serve you longer by taking time to eat and sleep.

Audio Fiction Podcast:
The Girl with Golden Hair by Bonnie Jo Stufflebeam

Audio Vault:
The Nine-Tailed Cat by Michael J. DeLuca
Introduced by the author.
Bonnie Jo Stufflebeam's short fiction has also appeared in Clarkesworld, Lightspeed, and Interzone. Her previous story for BCS was "Everything Beneath You" (issue 164). Karalynn Lee had one previous story in BCS, "Unsilenced" (Issue 105).
Issue 176 was published on June 25. Read it online completely free here.
Beneath Ceaseless Skies is edited by Scott H. Andrews and published twice a month by Firkin Press. Issues are available completely free online; you can also get a free e-mail or RSS subscription.
Firkin Press also sells a Kindle/e-Reader subscription, which includes automatic delivery to your Kindle or other device. A 12-month subscription comes with 26 issues and costs only $13.99. Single issues are available on Kindle and at Weightless Books for 99 cents. Subscribe here.
The magazine supports itself though subscriptions, and also by selling anthologies, including the annual Best of BCS volumes and occasional themed books such as the steampunk anthology Ceaseless West. The anthologies each contain 15-18 stories and cost only $2.99-$3.99.
The cover art this issue is "Migration" by Julie Dillon.
We last covered Beneath Ceaseless Skies with issues #174 and 175.
See our late June Fantasy Magazine Rack here, and all of our recent magazine coverage here.