Beneath Ceaseless Skies 174 and 175 Now Available
Beneath Ceaseless Skies 174 and 175 Now Available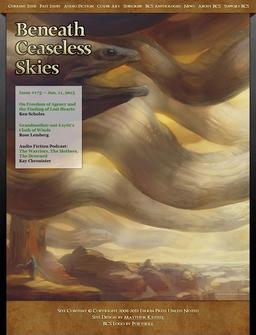 You know what happens if you neglect Scott H. Andrews for 15 days? He publishes two issues of Beneath Ceaseless Skies, making you look out of touch and behind the times.
So here we are playing catch-up, because Scott publishes magazines faster than I can write about them. Why doesn't he publish one issue a year, like a normal person?
Let's start with issue #175, 'cause it has monsters on the cover, and we know what that means (it means it's awesome). The issue is cover-dated June 11, and contains two short stories, a podcast, and a reprint.
"On Freedom of Agency and the Finding of Lost Hearts" by Ken Scholes
"I'll kill you in the morning," I mumbled into the drool I'd made on his pillow.

"Grandmother-nai-Leylit's Cloth of Winds" by Rose Lemberg
Behind us, a great hole in the ground gaped, but I wouldn't have dared look into it even if grandmother hadn't pulled me inside the tent.
Audio Fiction Podcast:
"The Warriors, The Mothers, The Drowned" by Kay Chronister
Ana thought the land of the dead would be empty, but it is full to bursting.

From the Archives:
"Throwing Stones" by Mishell Baker (originally published in BCS #47)
By the end of each night I had nearly adjusted, only to be wrenched back to my natural form at the first whisper of dawn.
Ken Scholes is the author of the 4-volume fantasy series Psalms of Isaak (Lamentation, Canticle, Antiphon, and Requiem.) Rose Lemberg co-edits (with Shweta Narayan) Stone Telling, a magazine of boundary-crossing poetry; on her own she's edited Here, We Cross, The Moment of Change, and the upcoming An Alphabet of Embers.
The cover art this issue is "Migration" by Julie Dillon.
Read issue 175 online completely free here.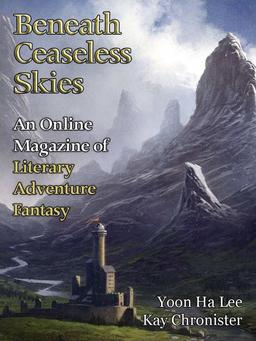 Issue #174 contains short stories by Yoon Ha Lee and Kay Chronister, plus a podcast and a reprint from BCS #151.
"Two to Leave" by Yoon Ha Lee
I had not entered the parched lands entirely unprepared. I had an excellent pair of boots — good boots are underrated everywhere — and I was almost glad the ferryman would not accept them in exchange for passage. I had the Apiarist's Gun, made to fit my hand. And as for nourishment, that took care of itself, even here.

"The Warriors, The Mothers, The Drowned" by Kay Chronister
Ana thought the land of the dead would be empty, but it is full to bursting. With gods' turquoise bones, with small grimacing golems fashioned from maize and bone-thin fellow travelers wandering across the desert on their hands and knees, with temples so black and shimmering that she can't quite make herself look at them.

Audio Fiction Podcast:
"Two to Leave" by Yoon Ha Lee
The Drought Guard had sent twelve-and-twelve of their own after me, which might have held numerological significance if I still cared about such things.

From the Archives:
"Crossroads and Gateways" by Helen Marshall (originally published in BCS #151)
"You would ask me a question, little god?"
Yoon Ha Lee has published short fiction in The Magazine of Fantasy and Science Fiction, Clarkesworld, Tor.com, and other places. (Interestingly, multiple BCS bios call Yoon Ha Lee "he," whereas her Wikipedia entry calls her "she," and her website refers to her only as "Yoon Ha Lee." An error, oversight, or evidence of a gender-fluid identity? Possibly all three.) Kay Chronister won the 2015 Dell Magazine Award; she currently lives in Phnom Penh, Cambodia.
The cover art is "Twisted Mountain Valley" by Christopher Balaskas.
Read issue 174 online completely free here.
Beneath Ceaseless Skies is edited by Scott H. Andrews and published twice a month by Firkin Press. Issues are available completely free online; you can also get a free e-mail or RSS subscription.
Firkin Press also sells a Kindle/e-Reader subscription, which includes automatic delivery to your Kindle or other device. A 12-month subscription comes with 26 issues and costs only $13.99. Single issues are available on Kindle and at Weightless Books for 99 cents. Subscribe here.
The magazine supports itself though subscriptions, and also by selling anthologies, including the annual Best of BCS volumes and occasional themed books such as the steampunk anthology Ceaseless West. The anthologies each contain 15-18 stories and cost only $2.99-$3.99.
We last covered Beneath Ceaseless Skies with issue #173.
See our June Fantasy Magazine Rack here, and all of our recent magazine coverage here.